Russia comments on US drone crash in Black Sea
No interceptor touched the American spy UAV that was approaching Crimea, Moscow has announced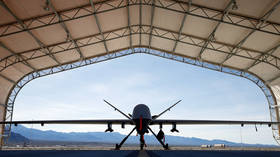 The Russian Defense Ministry on Tuesday denied claims by the US military that a Russian interceptor came into contact with the American MQ-9 drone over the Black Sea, causing it to crash.
The UAV was flying towards the Russian border without an active transponder, in clear violation of the restricted area established for the conduct of the special military operation, the ministry said. Two interceptors were dispatched to investigate.
"As a result of sharp maneuvers around 9:30am Moscow time, the MQ-9 unmanned aerial vehicle went into uncontrolled flight, lost altitude, and collided with the water surface. The Russian fighters did not use weapons, did not come into contact with the UAV, and returned safely to their home base," the defense ministry said in a statement.
Moscow's comment came after the US European Command (EUCOM) accused the Russian jets of "an unsafe and unprofessional intercept" of the drone. The Americans claimed their spy drone was operating in international airspace when a pair of Su-27 jets appeared, sprayed it with fuel, and "struck the propeller" of the UAV, which caused it to crash into the sea. EUCOM waited almost 12 hours after the incident to comment on it.
The US has admitted to providing Ukraine with intelligence, surveillance and reconnaissance information in the conflict against Russia, while insisting it is not a party to the hostilities. US and NATO spy aircraft frequently fly over the Black Sea and approach Crimea, sometimes just before Ukrainian forces launch attacks on the Russian peninsula.
Last week, a US strategic bomber flew a practice run for a missile attack on St. Petersburg, while staying in international, and NATO, airspace.
The Pentagon routinely uses the phrase "unsafe and unprofessional" to describe incidents in which Russian interceptors chase off US drones, spy planes or fighters that come too close to the border.
You can share this story on social media: