Da Vinci was the son of Caucasus slave – expert
A newly-discovered document has shed new light on the origins of the Renaissance icon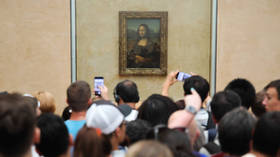 Leonardo da Vinci, the master painter of the Mona Lisa and celebrated artist of the Renaissance movement, was the son of an Italian father and a slave mother who was trafficked to Italy from the Caucasus, according to recently-unveiled research.
"Leonardo's mother was a Circassian slave [who was] taken from her home in the Caucasus Mountains, sold and resold several times in Constantinople, then Venice, before arriving in Florence," said Carlo Vecce, a da Vinci expert from the University of Naples, on Tuesday.
It was in Florence, Vecce added, that the artist's mother met Piero da Vinci, with whom she had a son named Leonardo. Previously, experts have generally agreed that da Vinci's mother was called Caterina and that her son was born in 1452.
The key to Vecce's findings was discovering a document in Florence's state archives dated in 1452 and understood to be written by da Vinci's father – who worked as a notary – in which he sought legal emancipation from slavery for a woman named Caterina in order "to recover her freedom and recover her human dignity."
Vecce stated that "the man who loved Caterina … gave her this child called Leonardo."
His appeal for emancipation indicates that the Caterina he was referring to was a slave. It disputes the long-held theory that da Vinci was the product of an affair between Piero da Vinci and a Tuscan peasant named Caterina di Meo Lippi. Despite the radical change of understanding to da Vinci's supposed lineage, Vecce's claims have been backed by fellow historians.
One such academic, Paolo Galluzzi of Rome's Lincei scientific academy, described the findings as "by far the most convincing" evidence of the artist's true origins. However, he cautioned that some doubt still remains "because we cannot do a DNA test."
Leonardo da Vinci was a polymath who forged new ground in several artistic and scientific fields before his death in France in 1519. He is regarded as a key figure in the Renaissance – a period in European history which oversaw a transition from the Middle Ages to relative modernity.
The Caucasus region is located between the Black Sea and the Caspian Sea.
You can share this story on social media: