Former Pakistani PM alleges assassination plot
Imran Khan claims the arrest ordered by his country's authorities has "mala fide intent"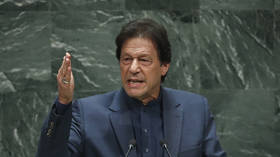 Former Pakistani prime minister Imran Khan says the "real intent" of police is to "abduct and assassinate" him after security forces attempted to detain him on Wednesday despite resistance from hundreds of the politician's supporters in the eastern city of Lahore.
Khan, 70, made the claim on social media amid clashes between police and his supporters outside his residence, which prompted authorities to deploy water cannons and tear gas. Police have since withdrawn from the scene following the standoff after the Lahore High Court ordered authorities to suspend the operation until 10am local time on Thursday.
"Clearly 'arrest' claim was mere drama because real intent is to abduct & assassinate," he wrote on Twitter on Wednesday. "From tear gas & water cannons, they have now resorted to live firing."
He added: "There is no doubt of their mala fide intent."
Khan is wanted by authorities following the issuance of two non-bailable arrest warrants for alleged corruption related to the sale of state gifts received while in office, as well as for comments made about a female judge.
The Pakistan Tehreek-e-Insaf leader was ousted from power in Islamabad last year and has since been embroiled in legal disputes as he calls for early elections in the country in a bid to return to political office.
However, Khan has maintained that the plot to arrest him is "not because I broke any law" but rather to ensure he "cannot contest elections."
Khan, who survived an assassination attempt in November, was also notified by authorities of another arrest warrant in recent weeks after he missed scheduled court dates, with his legal advisers citing security concerns. The initial attempt to arrest him was unsuccessful, with police saying he was "reluctant to surrender."
The dispute at the summit of the political ecosystem in Islamabad comes amid the country's severe economic downturn, which is forecasted to result in financial default if aid cannot be secured from the International Monetary Fund (IMF). There have also been a number of attacks at police stations which have been blamed on the Pakistani Taliban.
You can share this story on social media: