Former PM could be arrested after 'threatening' judge
Pakistan's Imran Khan has been accused of hiding earnings from state gifts and pressuring a female official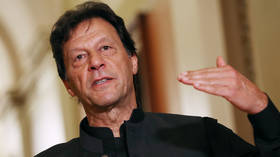 Two lower courts in Pakistan have ordered police to present former prime minister Imran Khan before a judge, in relation to cases where he is alleged to have concealed earnings from the sale of state gifts received while in office. He is also accused of using threatening language against a female judge at a rally last year.
Legal representatives for Khan – who survived an assassination attempt in November – have requested the former premier's cases be heard at a secure facility amid fears for his safety, after his failure to appear in court on Monday, where he would have been formally indicted.
"The lower court isn't safe," Khan's lawyer, Khawaja Harris, told Bloomberg. "If they want to hear his cases, it has to be held at a secured, protected premises." Khan has been ordered to attend hearings on March 18 and 29.
Khan, who was ousted from power in Islamabad last April, was accused by Pakistan's Election Commission in October of hiding proceeds from the sale of gifts received from foreign dignitaries while he was serving as premier.
He also said at a rally last August that a female judge should "prepare herself as action would be taken against her" after Khan alleged mistreatment by authorities of his special assistant, Shahbaz Gill.
Soon after, Khan told the Islamabad High Court in an affidavit that he "might have crossed a line" and indicated a willingness to apologize for the statement.
Khan has failed to attend scheduled hearings since February, even after a judge last month issued a non-bailable arrest warrant for the former PM. Pakistani law dictates that courts cannot push through formal charges if the accused is not physically present.
Former international cricket star Khan remains a highly popular figure in Pakistan, and continues to draw tens of thousands of people to his political rallies. However, the processing of charges against him has led to concerns that any indictment could be met with street protests.
The legal pursuit of Khan comes in amid increased scrutiny on the leadership of Prime Minister Shehbaz Sharif, whose coalition government has been blamed by critics for exacerbating an economic crisis. Sharif's government has attempted to combat economic problems by raising taxes and energy costs as the Pakistan rupee sank to a new low, with inflation also at a record high.
You can share this story on social media: