Ukraine won't get Western jets 'anytime soon' – FM
The training of pilots, however, "should start now," Dmitry Kuleba says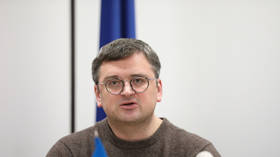 Ukrainian Foreign Minister Dmitry Kuleba admitted during an interview with the German tabloid Bild published late on Saturday, that Kiev will not get Western-made fighter jets "anytime soon."
The potential delivery of fighter jets to Kiev to prop it up in its ongoing conflict with Moscow is hindered by assorted technical and logistical issues, Kuleba said. However, he urged that Ukrainian pilots, who are only familiar with Soviet-made aircraft, begin training on the Western planes as soon as possible.
"I don't expect the delivery of fighter jets to happen anytime soon because it's a very difficult task logistically and technically. Therefore, we advise that the training of Ukrainian pilots on Western jets should start now, so that when the decision to provide aircraft is made, we do not waste time or many months on training," he said.
The diplomat also urged Berlin to ramp up deliveries of ammunition to Ukraine, namely artillery shells, claiming that while German industry had already expressed a readiness to provide them, the issue lies with the country's government.
"We sat down with Ukrainian representatives and the German armaments industry ... and German industry, in my presence, asked the German government for one thing: signed contracts," he stated.
Over the course of the conflict, Ukraine has increasingly demanded more and more sophisticated weapon systems from its Western backers. Kiev has intensified calls for NATO to supply it with fighter jets – namely the US-made F-16 – in recent months after securing a pledge for dozens of Leopard 2 and Leopard 1, M1 Abrams, and Challenger 2 main battle tanks from multiple EU countries, the US, and UK, respectively.
So far, however, the West has been reluctant to provide Ukraine with modern aircraft. Late in February, US President Joe Biden said he was "ruling it out for now." His Ukrainian counterpart Vladimir Zelensky "doesn't need F-16s now. There is no basis upon which there is a rationale, according to our military, now, to provide F-16s," Biden told ABC at the time.
Still, American media reported that the Pentagon has already invited Ukrainian pilots to a military base in Arizona to determine how long it would take to train them to fly the F-16. Last week, unnamed officials told NBC that two Ukrainian airmen had already arrived on American soil and more were likely to follow.
Russia has repeatedly warned the West against "pumping" Ukraine with assorted weaponry, maintaining it would only prolong the hostilities rather than change the ultimate outcome.
You can share this story on social media: