US assessing Ukrainians for possible F-16 training – NBC
Two pilots have arrived at a military base in Arizona, officials have told the broadcaster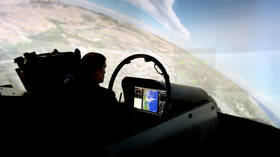 The US has invited Ukrainian pilots to a military base in Tucson, Arizona to establish how long it will take to train them to fly Western fighter jets, including F-16s, unnamed officials told NBC.
Two airmen from Ukraine have arrived on American soil so far, with more likely to follow, the broadcaster reported on Saturday. According to its sources, the US authorities plan to bring as many as ten Ukrainian aviators to the country this month.
The pilots have been working on simulators and there are no plans for them to fly actual aircraft, the officials noted.
The program has two goals: improving the Ukrainians' skills and assessing how long it will take to train them to effectively operate F-16s and other Western-made warplanes, they added.
"The program is about assessing their abilities as pilots so we can better advise them on how to use capabilities they have and we have given them," a Biden administration official explained.
It's the first time that Ukrainian pilots, who have been trained to fly Soviet-designed aircraft that differ significantly from their Western counterparts, have taken part in such a program in the US, NBC pointed out.
The officials who talked to the broadcaster stressed that the development did not mean there had been any change in Washington's stance on the delivery of F-16s to Kiev amid its conflict with Moscow.
"I'm ruling it out for now," US President Joe Biden said last week when asked about the possibility of arming Ukraine with American fighter jets. Ukrainian leader Vladimir Zelensky "doesn't need F-16s now. There is no basis upon which there is a rationale, according to our military, now, to provide F-16s," Biden told ABC.
Kiev has intensified calls for NATO to supply it with fighter jets – particularly F-16 aircraft – in recent months after securing a pledge from EU countries, the US and UK to provide dozens of Leopard 2, M1 Abrams and Challenger 2 main battle tanks, respectively.
Kremlin spokesperson Dmitry Peskov said discussions about the delivery of fighter jets to Kiev once again underline the growing involvement of Western countries in the conflict between Russia and Ukraine. He reiterated Moscow's stance that such actions only serve to escalate and prolong the fighting, and would lead to more bloodshed while failing to change the ultimate outcome of Russia's military operation.
You can share this story on social media: