Chechen leader's sanctioned racehorse stolen in EU
The animal that disappeared in the Czech Republic is priced at $10 million, Ramzan Kadyrov claims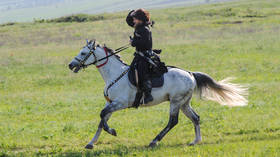 The head of Russia's Chechen Republic Ramzan Kadyrov says he suspects foul play in relation to the alleged theft of his sanctioned racehorse from stables near the Czech capital Prague.
Czech media reported on Tuesday that a horse named Zazou, believed to be owned by Kadyrov, had "vanished without a trace" from stables in the village of Krabcice last week. Local police were reportedly looking for information about the racehorse. The authorities were quoted as saying that a chain securing the doors to the stable had been removed and Zazou was led away, presumably at night.
The animal had been stuck in the Czech Republic since 2014 when Kadyrov was targeted by Western sanctions after Crimea rejoined Russia.
"How is that even possible? Had he been kept on some remote farm where one could just take him so easily? Where's the security? Where are the brave police with their democratically efficient and advanced investigative techniques?" the Chechen leader wrote on Telegram on Wednesday.
He said anyone "can leave their car open at night" without having to worry in Chechnya, and expressed surprise that a sanctioned horse could disappear in a European country with "the police learning about it only several days later."
"I don't believe in coincidences," he continued. "Those horse thieves are unique: stupid enough to steal a sanctioned mount, yet cunning enough not to be found by the police. I don't buy it."
Kadyrov also urged Czech officials and media, who said Zazou had cost $18,000, not to underestimate the value of his horse. "Surely this artificial underestimation is a result of some financial schemes by those responsible for his upkeeping," he suggested.
According to the Chechen leader, the 16-year-old thoroughbred mount, which he reportedly bought in Dubai back in 2011, cost at least $10 million. "Having learned its real price, someone will now make a big buck," he said.
Kadyrov added that he was sorry "a beautiful and noble animal" had to suffer as a result of these unfortunate events. "I'm concerned that Zazou may end up in bad hands," he wrote.
You can share this story on social media: