US House Speaker to meet Taiwan's leader – media
The meeting will reportedly be held in California to avoid triggering Beijing's ire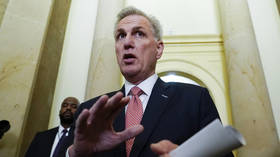 US House Speaker Kevin McCarthy is set to meet Taiwanese President Tai Ing-wen in the United States next month, the Financial Times reported, noting he agreed to skip a planned visit to the island after past American delegations to Taipei prompted harsh reactions from Chinese authorities.
Tsai will sit down with the senior lawmaker during her visit to the states in April, which will include travel to both California and New York, Taiwanese officials told the paper on Monday. Speaking on condition of anonymity, one official claimed that China is "not in a good situation right now," suggesting a trip to Taiwan by McCarthy could carry risks.
"We shared some intelligence about what the Chinese Communist Party is recently up to and the kinds of threats they pose," the official said, referring to its communications with McCarthy's office. They offered no specifics on what sort of danger the lawmaker might face.
While McCarthy declared last summer that he would visit the island should he take the speaker's role, his team has agreed to a meeting in the US instead, an effort to "avoid an aggressive response from Beijing," according to the Times.
A trip to Taipei last August by then-House Speaker Nancy Pelosi, a Democrat, triggered days of unprecedented military drills by Beijing, which launched major exercises in the airspace and waters surrounding Taiwan, including simulated blockades of the island. Though lower-ranking US delegations have been sent to Taiwan in the months since, those trips were not met with war games, but nonetheless prompted stern warnings from Beijing, which considers the island part of its sovereign territory.
McCarthy's office declined to comment on the reported meeting with Tsai, however Taiwanese officials said she would travel to the US sometime in April, while the Reagan Library in southern California has confirmed a speaking engagement for the leader during the same trip.
Taiwan has been self-governed since the end of the Chinese Civil War in 1949, but never officially declared independence from China. Beijing strongly opposes any direct diplomatic contacts between Taipei and foreign nations, only a handful of which recognize the territory as a sovereign state. Washington is not among them, despite frequent official junkets to the island, as well as a series of purportedly "defensive" weapons sales over the years – including under the Biden administration.
Last year, Chinese President Xi Jinping said his government would "continue to strive for peaceful reunification with Taiwan," but insisted it would "never promise to renounce the use of force" to reclaim the disputed territory.
You can share this story on social media: