Trump reacts to new footage of Capitol riots
The former president congratulated Tucker Carlson for what he called one of the biggest journalistic "scoops" in US history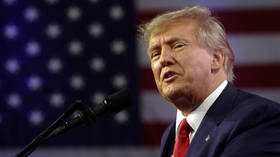 Most of those who made their way into the US Capitol on January 6, 2021 are "totally innocent," former US President Donald Trump has insisted after Fox News host Tucker Carlson published new footage of the events.
Carlson had earlier been granted access by Republican House Speaker Kevin McCarthy to more than 40,000 hours of security video records from the Capitol on the day of the riots. On Monday, the Fox News host shared some of those clips on his program, showing Trump's supporters behaving peacefully inside the US Congress in Washington, DC.
The footage "demolishes" claims by the Democrats that "January 6 was an insurrection," Carlson insisted. There were some "hooligans" among those who got into the Capitol, but the "overwhelming majority" of Trump supporters were non-violent, he said. "These were not insurrectionists. They were sightseers," the journalist stated.
Trump reacted to the clips in a post on his Truth Social platform on Tuesday, saying: "Congratulations to Tucker Carlson on one of the biggest 'scoops' as a reporter in US history."
The footage released by the Fox News host "sheds an entirely different light on what actually happened," he claimed.
The House Select Committee, which investigated the January 6 events, "was a giant scam and has now unequivocally been stamped as criminal fabricators of this most important day," the former president wrote.
The people only gained access to the Capitol because then-Democratic House leaders Nancy Pelosi and Mitch McConnell "failed on security," Trump suggested, adding that "the police story is sad and difficult to watch."
Carlson's footage proves that "Trump and most others are totally innocent. Let them go free now," the former president said.
Trump supporters overran the US Capitol on January 6 in an attempt to block the certification of his Democratic rival, Joe Biden, as president. The Democrats have maintained that Trump incited the unrest with his repeated statements that the election had been stolen from him.
More than 950 people have so far been charged in connection with the events, with over 190 of them being slapped with prison terms.
Left-wing media outlets have attacked Carlson over his report, arguing that he didn't mention the violence and destruction inside the Capitol and deliberately selected the clips to support his narrative. The footage released by the Fox News host was "an attempt to downplay the violence and defend the pro-Trump mob," CNN said in an article.
You can share this story on social media: