Trump and January 6 prisoners collaborate on song
Profits from the track will reportedly benefit the former president's incarcerated supporters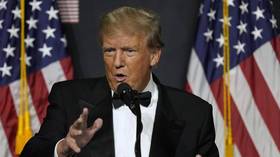 Former president Donald Trump has lent his vocals to a song in aid of the supporters who were jailed for participating in the January 6, 2021 riot on Capitol Hill. Trump has vowed to issue pardons to the rioters if he is elected in 2024.
Entitled 'Justice for All', the song was released on Spotify, Apple Music, and YouTube on Thursday. It cuts between Trump reciting the Pledge of Allegiance and a group of inmates calling themselves the 'J6 Prison Choir' singing the Star Spangled Banner. Running for just over two minutes, it ends with the prisoners chanting "USA."
According to Forbes, which first reported the story, the prisoners sang their lines over a phone from confinement in a Washington, DC jail. Trump recited the pledge from his Mar-a-Lago estate in Florida.
Proceeds from the song will go to the families of those jailed for taking part in the riot, except for those whose loved ones assaulted police officers.
A crowd of Trump supporters entered the US Capitol on January 6, 2021, to protest Congress' certification of Joe Biden's electoral victory the previous November. Trump, who still maintains that Biden's win was fraudulent, told the crowd earlier that day to "fight like hell" against the certification, but to do so "peacefully and patriotically."
The protest briefly disrupted the certification, and the crowd was dispersed by the police after several hours. Numerous clashes between the police and rioters broke out, however, and one Trump supporter was shot dead by an officer. Two others died of natural causes and one by accidental overdose.
Biden's Justice Department has charged more than 950 people in connection with the riot, while around 350 have been sentenced and 190 incarcerated, according to Justice Department figures. Around three dozen remain held in a special unit of the Washington, DC jail, where they have described conditions as "medieval."
Trump is running for office again in 2024. Shortly before he formally announced his candidacy, he said that he would consider "full pardons" for the convicted rioters. In an interview this January, he described them as "political prisoners," many of whom had received unduly harsh sentences for misdemeanor offenses.
You can share this story on social media: