Taiwan issues China warning
Chinese military could this year carry out a "sudden entry" into areas close to the island, Taipei's defense minister has said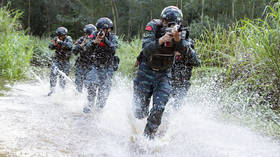 Taiwan should be on the lookout for the Chinese military's possible actions in areas adjacent to the self-governing island during 2023, its Defense Minister Chiu Kuo-cheng told lawmakers on Monday.
During a Q&A session in parliament, Chiu claimed that the Chinese People's Liberation Army (PLA) may find a "certain pretext" this year to make a "sudden entry" into a zone contiguous to Taiwan and get close to what it considers its territorial waters.
The official alleged that Beijing is "making such preparations," and that China "would use force if they really have to."
According to the minister, an average of ten Chinese military aircraft and vessels make forays into areas near Taiwan on an almost-daily basis, with some of them crossing the median line of the Taiwan Strait, considered to be an unofficial buffer between Beijing and Taipei.
Chiu noted that Taiwan has made preparations to "fire the first shot" should PLA entities, including drones or balloons, enter its territorial space.
When a reporter asked Chinese foreign ministry spokesperson Mao Ning to comment on the remarks, she reportedly replied by saying that the island is "part of China and has no defense minister."
The diplomat also stressed that Beijing "will take firm measures to defend its sovereignty and territorial integrity."
Beijing, which considers Taiwan as an inalienable part of China, has significantly ramped up its military activities around the island in recent months. The country's leadership, including President Xi Jinping, have repeatedly made it clear that a military option is not off the table for the "reunification" of Taiwan with the mainland.
Tensions intensified in early August of last year when US Speaker of the House Nancy Pelosi paid an official visit to the island despite China's protests. Beijing responded with unprecedented military exercises around Taiwan.
On Sunday, Chinese Premier Li Keqiang reiterated Beijing's commitment "to taking resolute steps to oppose 'Taiwan independence'."
His remark came days after the US State Department gave the green light to the sale of $619 million worth of weapons and ammunition to Taipei. The package includes F-16 fighter jets as well as various types of missiles.
Taiwan has been de-facto independent since 1949 when the losing side in the Chinese civil war fled to the island and established its own administration there. While most countries bar a dozen profess to abide by the 'One China' principle and do not recognize Taiwan as an independent state, the self-governing island has long enjoyed close ties with the US.
You can share this story on social media: