China boosts defense spending
Beijing has announced its biggest budget increase since 2019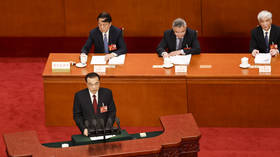 China's defense spending will rise by 7.2% to $230 billion this year, according to information contained in Beijing's national budget, released on Sunday. Premier Li Keqiang also called upon the country's armed forces to "boost combat preparedness" as they expand their military capabilities amid tensions with Taiwan.
The 7.2% increase is the sharpest surge in China's defense spending since 2019. It follows a 6.8% uptick in 2021 and 6.6% in 2020. In 2019, Asia's leading military power oversaw a 7.5% increase in its defense budget to 1.19 trillion yuan – around $172 billion. The latest hike is the eighth consecutive single-digit annual increase in Beijing's military budget.
Briefing an annual session of parliament with a report prepared by the Finance Ministry, Li said on Sunday that the hike in spending would allow China's military to be "well-coordinated in fulfilling major tasks."
"Our armed forces, with a focus on the goals for the centenary of the People's Liberation Army in 2027, should work to carry out military operations, boost combat preparedness and enhance military capabilities," he said.
The spending increase will be proportionately higher than the country's overall economic growth of 5%, as China seeks to rebound from sluggish growth throughout the Covid-19 pandemic. Beijing's economy is "staging a ready recovery and demonstrating vast potential and momentum for further growth," Li added.
China, which has been accused by the US of potentially being open to supplying Russia with military aid – an allegation which it denies – should also "stay committed to an independent foreign policy of peace," Li said, making no mention of the Russia-Ukraine conflict.
Li also said the Chinese leadership should promote relations with Taiwan to advance "peaceful reunification," while also taking "resolute steps to oppose 'Taiwan independence.'"
Beijing has also recently expressed security concerns about US naval and air missions in the disputed South China Sea region. The defense budget announced by Beijing is around one quarter of Washington's proposed spending, and around 4.5 times greater than Japan's budget.
China, which has the world's largest number of military personnel, says its spending is defensive in nature. Among the new hardware being invested in by the Chinese military will be aircraft carriers and stealth fighters.
You can share this story on social media: