Scholz issues warning to China
The German chancellor says Beijing will face "consequences" if it sends arms to Moscow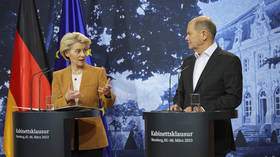 German Chancellor Olaf Scholz has said China will face unspecified sanctions if it meddles in the Ukrainian conflict and offers military assistance to Russia, even as European officials admit they have yet to see any evidence that Beijing intends to do so.
"I think it would have consequences, but we are now in a stage where we are making clear that this should not happen," Scholz told CNN during his brief visit to Washington, when asked if Germany would sanction its biggest trade partner China.
Beijing has faced a growing wave of accusations from Western officials and media in recent weeks of potentially being open to supplying Russia with military aid – an allegation which it denies. China will "stay committed to an independent foreign policy of peace," Premier Li Keqiang said on Sunday, making no mention of the Russia-Ukraine conflict.
Upon returning to Germany, Scholz refused to answer a direct question about whether President Joe Biden showed him any concrete evidence to support claims that China was considering weapons deliveries to Russia.
"We all agree that there must be no weapons deliveries, and the Chinese government has stated that it wouldn't deliver any," the chancellor told journalists following a meeting with European Commission President Ursula von der Leyen on Sunday.
"That is what we are demanding and we are watching it," Scholz added.
Von der Leyen was less evasive and admitted that "we have no evidence for this so far," but warned that the West will remain cautious and "observe" Beijing's compliance. However, she avoided saying whether the EU would sanction China, dismissing it as a "hypothetical question that can only be answered if it were to become reality and fact."
China has repeatedly denied the accusations. Last week, Chinese Foreign Ministry spokeswoman Mao Ning said Washington was peddling "false information about weapons" and sanctioning Chinese firms "for no reason," describing this as "hypocritical" and "a blatant act of bullying."
Washington is already fueling the fire in Ukraine by "pouring weapons into one side of the conflict, thus prolonging the fight and making peace elusive," Mao added.
You can share this story on social media: