Biden praises Scholz over Russian energy
The US and German leaders have met in Washington to synchronize their next steps in aiding Ukraine against Russia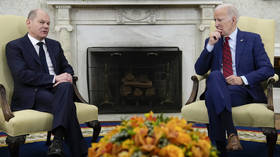 President Joe Biden hosted a White House visit from German Chancellor Olaf Scholz on Friday, using the occasion to reiterate vows of inexhaustible military support to Ukraine for "as long as it takes." However, besides the usual rhetoric and exchange of pleasantries, the leaders shared few details of their talks and took no questions from reporters.
"I want to thank you, Olaf, for your strong and steady leadership," Biden told the chancellor in the Oval Office. "I mean that sincerely. It's made a world of difference. You stepped up to provide critical military support. And I would argue that beyond the military support, the moral support you've given Ukrainians has been profound."
Biden also hailed increases in German defense spending, and praised Scholz for "diversifying away from Russian energy sources."
I know that's not been easy. Been very difficult for you.
Legendary US investigative journalist Seymour Hersh reported last month that US forces blew up the Nord Stream pipelines in September at Biden's direction. The sabotage cut off the conduits that carried Russian natural gas from Russia to Germany and other parts of Western Europe through the Baltic Sea.
During Scholz's last visit to the White House in February 2022, Biden told a reporter that his administration would "bring an end" to Nord Stream 2 if Russian forces launched a military offensive against Ukraine.
Scholz did not raise the issue of Germany's energy security in his brief appearance alongside Biden on Friday, but vowed to work in "lockstep" with Washington to give Ukraine the support it needs. "It is very important that we give the message that we will continue to do so as long as it takes and as long as it is necessary."
The German chancellor came to Washington with an unusually small delegation and no press conference was scheduled after his private meeting with Biden this time.
While Washington used the occasion to unveil yet another $400 million weapons package destined for Ukraine, Berlin announced no new commitments on Friday.
Germany hesitated for months before pledging its Leopard 2 main battle tanks to Kiev in late January, and only after Biden also promised to supply several dozen M1 Abrams tanks. Together with its EU and NATO allies, Germany hoped to create two armored battalions containing 30 tanks each in time for a rumored spring offensive, but they have so far failed to meet that goal. The US tanks, according to some reports, are not expected to reach Ukraine until the end of the year.
Behind the scenes, Biden and Scholz reportedly also discussed their next steps in supporting Ukraine diplomatically, including possible sanctions against China if it provides military support to Russia.
You can share this story on social media: