Biden 'lied' about Nord Stream blasts – Seymour Hersh
The US president has deceived the public about his country's role in the pipeline attacks, the legendary journalist says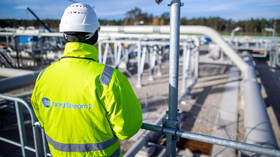 US President Joe Biden secretly ordered the blowing up of the Nord Stream pipelines so Germany would not back out of imposing sanctions on Moscow over Ukraine, legendary investigative journalist Seymour Hersh said on Afshin Rattansi's show 'Going Underground.' Hersh published a bombshell exposé on the incident earlier this month.
In the report, Hersh claimed that the US and Norway were behind the September 2022 blasts that hit the dual pipelines, built to deliver Russian gas to Germany through the Baltic Sea. Washington denied any involvement in the blasts, calling the journalist's claims "fiction."
Hersh stood by his words, however. Biden was "lying" and "not telling the truth about something he authorized," he said. The journalist compared the alleged affair to the events leading up to Washington's entry into the wars in Vietnam and Iraq.
The US intent was to "to make sure that Europe keeps on supporting NATO and keeps funneling arms into what is clearly a proxy war against Russia that's being fought right now," Hersh said.
The full version of Going Underground's interview with Hersh will be aired on RT on Saturday.
You can share this story on social media: