North Korea asks UN to rein in US
Pyongyang wants the global body to halt joint US-South Korea military drills, which have gone ahead despite its warnings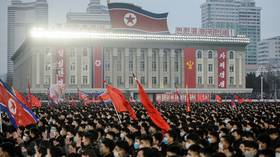 North Korea has appealed to the United Nations to exert its influence on the US and South Korea to prevent them from holding joint military exercises on the Korean Peninsula. Pyongyang has warned that the two countries' actions have made the situation in the region "extremely dangerous."
Kim Son Gyong, a top official in the DPRK's Foreign Ministry, called on the UN and the international community to "strongly urge the US and South Korea to immediately halt their provocative remarks and joint military exercises" in a statement published on Sunday by the Korean Central News Agency (KCNA).
On Friday, Seoul and Washington announced plans for more than 10 days of large-scale military drills, involving amphibious landings as well as American B-1B strategic bombers. The exercises will run from March 13 to March 23 and will be the largest joint drills in at least five years and their longest on record.
The North Korean Foreign Ministry official characterized them as a "military demonstration against the DPRK."
Kim decried what he described as the UN's silence with respect to Washington's and Seoul's "irresponsible" behavior in the region. The North Korean official also suggested that UN Secretary General Antonio Guterres may have double standards when it comes to military actions in the region. According to the diplomat, while Guterres "kept mum" in the face of the "US and South Korea's dreadful military provocation," he was quick to denounce Pyongyang.
He argued that the UN would have to change tack if it is interested in "promoting the sustainable detente on the Korean Peninsula and in the region." He went on to warn that the US-South Korean war games, if they continue unchecked, were likely to bring about a "very critical and uncontrollable phase."
Speaking to reporters in Seoul on Friday, US Forces Korea spokesman Colonel Isaac Taylor announced plans to hold two concurrent joint drills, named Freedom Shield and Warrior Shield. The military official said the war games are intended to improve the US and South Korea's response capabilities toward North Korean "aggression" and would incorporate "lessons learned from recent wars and conflicts."
Washington and Seoul went ahead with the plans despite North Korea previously warning that such maneuvers could be construed as a "declaration of war" and lead to "unprecedentedly persistent and strong counteractions."
The two Koreas have technically been at war for over seven decades, with the 1950-1953 conflict ending in an armistice. After several years of relative quiet, North Korea carried out a record number of missile launches in 2022, resuming weapons tests following a self-imposed moratorium agreed during negotiations with then-US President Donald Trump in 2018.
You can share this story on social media: