Asian ally announces more arms purchases from US
The Japanese government has overseen a radical boost in defense spending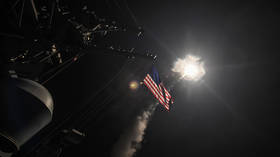 Japanese Prime Minister Fumio Kishida said on Monday that Tokyo intends to buy 400 Tomahawk missiles from the United States in a bid to boost its defense capabilities, citing security concerns over China and North Korea.
"Our country's plan is [to purchase] 400 units," Kishida told a parliamentary budget committee. He did not provide additional details for reasons of military sensitivity. The deal is being processed through the United States' Foreign Military Sales (FMS) program.
Kishida's government has announced plans to significantly bolster the country's military and will divert 211.3 billion yen ($1.55 billion) to purchase the missiles. The deal will see Japan join the US and the UK as the only countries with Tomahawks. The US has also authorized the sale of the weapons to Australia.
Japan's defence spending has jumped by nearly a quarter from last year, and represents part of its biggest military build-up since World War II. Japan had adopted a post-war pacifist stance which limits its military spending to defensive purposes.
However, Japan last year amended its security and defense policies, specifically citing concerns about Beijing's military ambitions. Tokyo pledged to aim for the NATO standard of spending 2% of its GDP on defense by 2027.
The Tomahawk weapon, which launches from ships and submarines, can hit targets from a distance of around 1,200 miles (1,900 km), which would place the Japanese arsenal within range of China's east coast.
Kishida's government also intends to increase spending on various other military capabilities, such as cyber warfare programs, drone ballistic missile defenses and reconnaissance and surveillance satellites.
The spending spree comes amid Japanese concerns about the launch of potential Chinese military action in Taiwan, as well as a recent increase in North Korean ballistic missile testing.
Beijing seeks to reunite what it calls a renegade island with the mainland, preferably by peaceful means.
A weapons test from Pyongyang earlier this month saw two missiles splash down in waters off the Japanese coast, within the country's exclusive economic zone. North Korea maintains that its launches are a response to US military drills in the region, which it sees as a threat.
You can share this story on social media: