American leaders are 'fundamentally stupid' – US Democrat
In their rush to fight Russia and punish Europe, Washington elites have brought humanity to the brink of nuclear war, Geoffrey Young told RT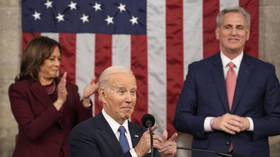 Motivated by a desire to sever Germany's economic ties to Russia, the US' "intellectually bankrupt" politicians have made nuclear war a realistic possibility, Kentucky gubernatorial candidate Geoffrey Young told RT on Saturday.
Young said that the electorate he has spoken to in Kentucky are "sick of" seeing their tax dollars go to Ukraine, and think that the US should cut off the supply of arms to Kiev.
In Washington, however, politicians are "separated from reality," he said. "I think most of them are severely deluded about reality by decades of anti-Russian propaganda in our mainstream media," he claimed, pointing to the fact that Congress is currently holding hearings on climate change, which he called "totally irrelevant..at this moment when humanity is threatened by a possible nuclear war."
Aside from using Ukraine to fight a proxy war against Russia, Young claimed that the Biden administration's overarching goal has been to "strengthen Washington's hold over our European so-called allies."
"The Nord Stream bombing was a part of that strategy, designed to make Germany, the largest economy in Europe, totally dependent on the US," he explained. "For decades, Washington's biggest nightmare has been that Germany and Russia would ally, have their economies complement each other… and make the United States irrelevant."
American journalist Seymour Hersh recently published reports blaming the bombing of the Nord Stream pipelines on the CIA and the Norwegian navy, who he claimed acted on the instruction of President Joe Biden. Hersh said that the attack was largely intended to remove Berlin's ability to lift sanctions on Russia and resume buying Russian gas – which is significantly cheaper than American liquefied natural gas.
These sanctions have been ineffective. According to the most recent figures from the International Monetary Fund, Russia's economy is set to grow faster than that of the UK and Germany this year, and faster than all of the G7 nations in 2024.
Yet the West continues to prepare more sanctions on Moscow out of "incompetence," Young told RT. "Our leaders are intellectually bankrupt. They don't know what they can accomplish and what they can not accomplish. Fundamentally they're stupid, and they don't have any other ideas."
The US and its allies should therefore "back off" before the conflict in Ukraine spreads any further, he recommended.
Young's position on Ukraine puts him at odds with the rest of the Democratic Party, who have voted in lockstep to continue the US' military support for Ukraine. Only a minority of Republicans in Congress have opposed this support, with 11 GOP representatives sponsoring legislation last month that would cut off the flow of weapons to Kiev.
Young is challenging incumbent Governor Steve Beshear in the Kentucky Democratic primary this May. He ran for the House of Representatives as a self-described "Peace Democrat" last November, but lost to Republican Andy Barr.
You can share this story on social media: