Seymour Hersh explains why he believes US blew up Nord Stream
Political reasons drove the decision to detonate the charges, says the investigative journalist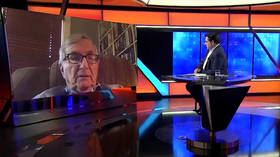 US President Joe Biden ordered the destruction of the Nord Stream pipelines in order to make sure Germany could not change its mind about sanctions against Russia and weapons shipments to Ukraine, according to Seymour Hersh. The legendary investigative journalist was speaking to 'Going Underground.'
Earlier this month, Hersh published an article that blamed the US and Norway for the series of explosions that disabled both Nord Stream 1 and Nord Stream 2, the pipelines under the Baltic Sea built to supply Western Europe with Russian natural gas.
In an interview with Afshin Rattansi, Hersh said the US intelligence community hatched the plan "in late 2021," before the escalation of hostilities in Ukraine. When Biden and Under Secretary of State Victoria Nuland both publicly spoke about "stopping" and "ending" Nord Stream 2, however, Hersh claimed the spies were upset, "because it was supposed to be a covert operation."
"The people who did this thing in the intelligence community, they initially thought it was a great idea," Hersh told Rattansi. According to his story, the bombs were planted in June, during the scheduled BALTOPS 2022 naval exercise off the Danish island of Bornholm. The bombs went off in late September, as Ukraine was facing "a serious issue" on the battlefield.
"It's not going to help the war. What he was doing it for, was to prevent Germany and Western Europe, in case the winter came quickly, from opening up the pipeline," Hersh said.
The rationale for the mission was "to make sure that Europe keeps on supporting NATO and keeps funneling arms into what is clearly a proxy war against Russia that's being fought right now," he added.
Asked whether Moscow had somehow missed the American involvement, and focused on the UK instead, Hersh said he had not spoken to anyone in Russia. One thing he could say is that it would be "absolutely insane" for Russia to blow up its own pipeline. Just about everyone in the pipeline business agrees with that assessment, he added.
The White House, the Pentagon and the State Department have all disavowed Hersh's article as "fiction" and denied all accusations of US involvement in the attack on Nord Stream. Russia has called for an independent UN investigation into what it described as an act of international terrorism.

The full interview will air on Saturday's episode of Going Underground.
You can share this story on social media: