Ex-US soldier sentenced to 45 years for terrorist plot
The former airborne infantryman pleaded guilty to trying to kill members of his unit in a "jihadist" attack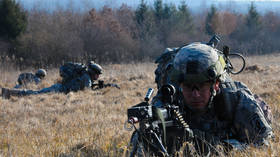 A federal judge in New York has sentenced a former US Army private to 45 years in prison for planning a terrorist attack on his airborne infantry unit while it was deployed in Türkiye.
Ethan Phelan Melzer, also known as Etil Reggad, was sentenced on Friday after pleading guilty to attempting to murder US service members, providing material support to terrorists, and illegally disclosing national defense information. The 24-year-old native of Louisville, Kentucky shared sensitive information on his unit with an Al-Qaeda member and a neo-Nazi group called Order of the Nine Angeles (O9A), prosecutors said.
"Melzer betrayed his fellow soldiers and his country," said Robert Wells, assistant director of the FBI's counterterrorism division. "Americans serving their country overseas should never have to fear a terrorist attack from within their own ranks, and today's sentence holds him accountable for his deadly plan to attack the brave men and women of the armed forces who protect our nation."
Prosecutors said Melzer infiltrated the US Army in the service of the UK-based O9A and intended to ambush his fellow soldiers in a carefully plotted "jihadist attack." O9A encourages its followers to join Western militaries to help destroy them, and admires Islamic jihadists such as former Al-Qaeda leader Osama bin Laden.
Melzer joined the US Army around 2018 and was deployed to Italy in October 2019. He was informed sometime around May 2020 that he was being reassigned to a unit that would be going to Türkiye to help guard an isolated and sensitive military installation, prosecutors said. As part of his training during the lead-up to his new deployment, he learned details about the purpose, layout, and security of the Turkish base.
Upon learning the importance of his unit's mission, Melzer allegedly began using encrypted messaging to share information with jihadists and members of O9A, especially a sub-group called the 'RapeWaffen Division'. He advocated for an attack that would "essentially cripple" his unit's fire teams, prosecutors said, and pledged to provide real-time photos of the base and the frequency and channel of US Army radio communications.
"Melzer traitorously sought to attack the very soldiers he was entrusted to protect," said US Attorney Damian Williams. He added that Friday's sentence makes clear that US authorities "will work tirelessly to bring traitors like Melzer to justice and to protect the safety and integrity of our armed services."
You can share this story on social media: