Fort Hood Massacre 2.0?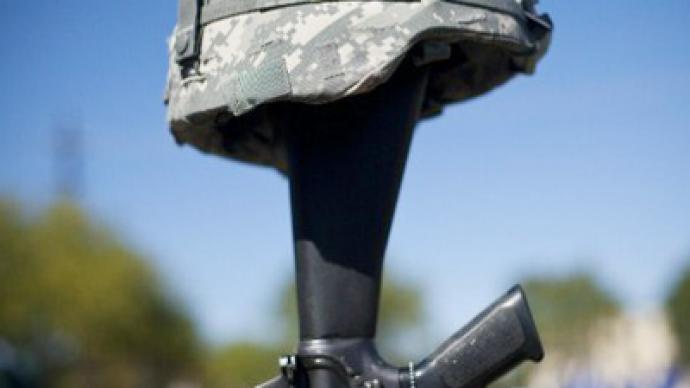 An AWOL Army private is being held by law enforcement after he was discovered with bomb making materials in his possession near Fort Hood.
Pfc. Naser Jason Abdo, a Muslim American that had previously been serving in the US Army, was apprehended after a worker at a nearby gun shop tipped-off authorities. He was taken into custody just outside the same Texas military base where 13 people were killed during a 2009 shooting spree. In that incident, authorities believe that another Muslim American serviceman, Nidal Hassan, was responsible for the massacre. At the time of his arrest, Abdo, 21, was in possession of weapons, explosives and jihadist material in his motel room, reports ABC News. When questioned by law enforcement why he was at Fort Hood, Abdo reportedly told them he was planning to "get even.""Any threat posed by Mr. Abdo is now over," Erik Vasys of the Texas branch of the FBI tells reporters. He adds to ABC that there was "nothing to indicate that he was involved with anyone else or any grander plan at this time."Abdo is believed to have visited the Killeen, Texas Guns Galore shop to get smokeless gunpowder and ammunition earlier in the day. Police add that the suspect also purchased uniforms from a military surplus store nearby. Greg Ebert, the Guns Galore clerk, told authorities that the amount of powders and ammunition purchased by Abdo "can be highly volatile."A raid on Abdo's motel room also revealed a handgun, a pressure cooker and 18 pounds of sugar. Authorities say the suspect had written on the Internet that he could no longer participate in the US military because its operations conflicted with the beliefs of his religion. He refused to go to Afghanistan and later went AWOL after charges emerged that he was in possession of child pornography, says the FBI.The Killeen Daily Herald adds that Abdo had submitted a conscientious objector packet to be discharged but the requested was put on hold. He went AWOL during the July 4 weekend from a Kentucky military base 800 miles from Fort Hood."We have two things that I believe make us American, and that's freedom of religion and freedom of choice," Abdo said in an interview last year. "I've come to the conclusion that the consequences I would face by refusing deployment are a lot less than the consequences I would face should I go. I don't think I would be able to live with myself if I deployed," he said.Army Maj. Nidal Hasan is currently facing 13 counts of premeditated murder and 32 counts of attempted murder for the 2009 Fort Hood massacre. Federal charges against Abdo are expected to be filed today.