American's top prosecutor makes surprise Ukraine visit
Attorney General Merrick Garland has dropped in to reaffirm US determination to "hold Russia accountable"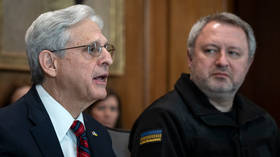 US Attorney General Merrick Garland made an unannounced visit to Ukraine on Friday, joining President Vladimir Zelensky at a conference and vowing to punish Russia for alleged war crimes. Russia has denied such accusations and pointed to Western disinterest in Ukrainian atrocities.
Garland made the trip, which was kept secret for security reasons, at the invitation of Ukrainian Prosecutor General Andrey Kostin, a US Department of Justice (DOJ) official told reporters. He held several meetings with Ukrainian officials and attended the United for Justice Conference in Lviv.
The trip marked Garland's second unannounced visit to Ukraine since Russia's military operation against Kiev began last year. On Friday's visit, he "reaffirmed our determination to hold Russia accountable for crimes committed in its unjust and unprovoked invasion against its sovereign neighbor," the DOJ official said.
Garland marked last week's one-year anniversary of the conflict's start by issuing a statement saying that a team of DOJ prosecutors was working with their Ukrainian counterparts to investigate "specific crimes committed by Russian forces, including attacks on civilian targets. At the same time, Congress has expanded our authority to prosecute alleged war criminals who are found in the United States."
US officials have stepped up their anti-Russia rhetoric in recent weeks, such as when Vice President Kamala Harris claimed that Moscow had committed "crimes against humanity." Speaking at the Munich Security Conference on February 18, Harris said Washington had "examined the evidence" and vowed that the alleged perpetrators would "be held to account."
Russian Ambassador to the US Anatoly Antonov reacted by saying the vice president's claims were a cynical attempt to escalate the Ukraine conflict and justify efforts to keep pouring weapons into Kiev. He pointed out, too, that the US had ignored Ukrainian crimes, including the shelling of civilian areas in Donbass during the eight years leading up to the current crisis.
"Washington's two-facedness is outrageous," Antonov said. "Why is the State Department silent about the atrocities of Ukrainian cutthroats? What are the American human rights organizations thinking? Why is no one calling for the punishment of fascist thugs?"
President Joe Biden's administration on Friday announced an additional $400 million in military aid to Ukraine. Washington has given Kiev more than $32 billion worth of arms and has allocated over $110 billion in aid since the conflict began. Russia has argued that NATO aid to Ukraine is only prolonging the crisis and causing more bloodshed.
You can share this story on social media: