US trying to demonize Russia – Moscow
Russia's ambassador has responded to Kamala Harris' accusations of 'crimes against humanity'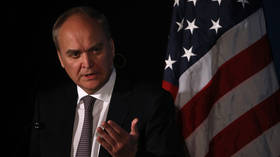 Russian Ambassador to the US Anatoly Antonov has slammed accusations by Washington that Russia had committed "crimes against humanity" as an attempt to vilify Moscow and escalate the conflict in Ukraine.
"We consider such insinuations as an attempt, unprecedented in terms of its cynicism, to demonize Russia in the course of a hybrid war, unleashed against us," Antonov said in response to questions from reporters on Sunday.
He added that these claims were being used to "justify Washington's own actions to fuel the Ukrainian crisis" and keep militarizing Kiev.
The diplomat also accused the US of turning a "blind eye" to Kiev's actions in the conflict and "completely ignoring" years of shelling settlements in Donbass.
Washington's two-facedness is outrageous. Why is the State Department silent about the atrocities of Ukrainian cutthroats? What are the American human rights organizations thinking? Why is no one calling for the punishment of fascist thugs?
US Vice President Kamala Harris said on Saturday that "the United States has formally determined that Russia has committed crimes against humanity." The claim was made during the Munich Security Conference, with Harris adding that Washington had "examined the evidence" and that Russia's actions "will be held to account."
US Secretary of State Antony Blinken also said the American government would work with Kiev "to ensure that Russia's crimes do not go unpunished." The vow was accompanied by additional funding for the Ukrainian authorities.
Earlier this month, footage purportedly showing Ukrainian troops executing Russian prisoners of war was posted online. The Russian Foreign Ministry called the silence of the international organizations about this incident "disgraceful." A day later, UN Office of the High Commissioner for Human Rights spokeswoman Marta Hurtado said they believed the video was authentic and "raised concern."
Russia began a military operation in Ukraine in February 2022. The ongoing conflict has led to multiple allegations of war crimes from both sides.
You can share this story on social media: