FBI makes claim over 'most likely' Covid origin
The head of the bureau accused Beijing of attempting to "thwart" investigations into the source of the global pandemic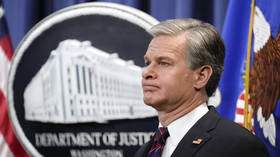 FBI Director Christopher Wray has claimed Covid-19 "most likely" originated due to a leak from a Chinese government laboratory, citing a bureau assessment. The assertion follows reports regarding a classified briefing by the Energy Department, which also alleged that the pathogen may have emerged from a lab.
Speaking to Fox News in an interview that aired on Tuesday, Wray was asked to comment on the genesis of the worldwide health crisis, and replied that his agency is confident the virus escaped from a lab in Wuhan, China in late 2019.
"The FBI has for quite some time now assessed that the origins of the pandemic are most likely a potential lab incident in Wuhan. Here you are talking about a potential leak from a Chinese government-controlled lab," he said. Wray added that the virus has killed "millions of Americans" and "that's precisely what that capability was designed for."
The bureau took the additional step of transcribing Wray's comments into a series of tweets, apparently hoping to amplify the director's claims online. He provided no evidence to support his assertions, instead telling Fox's Bret Baier that most details surrounding the FBI probe are "classified."
Wray went on to accuse the Chinese government of "doing its best to try to thwart and obfuscate the work here," referring to investigations by US federal agencies and "foreign partners," but did not describe the alleged efforts to hinder the probes.
The director's comments came on the heels of a report published in the Wall Street Journal over the weekend, which cited a classified intelligence briefing recently seen by the White House and senior lawmakers. The missive noted that the Energy Department had changed its stance on the origin of the virus and now believes Covid-19 probably emerged from the Wuhan lab. However, the department reached that conclusion with only "low confidence," the report added, also stating that four other federal agencies remain convinced the pathogen jumped to humans by way of natural transmission, not accidental exposure in a laboratory setting.
A previous assessment released by the Director of National Intelligence in 2021 indicated the FBI had "moderate confidence" in the lab leak theory, while the Energy Department was undecided at the time. Officials reached by the Journal said the change in stance was the result of "new intelligence," though they declined to offer additional details.
A team led by the World Health Organization (WHO) traveled to China in 2021 to investigate the origins of the virus, ultimately concluding the lab leak theory was "extremely unlikely." Beijing, for its part, has rejected the leak claim as an unfounded rumor at best, and a coordinated effort to smear China's international image at worst, insisting it has been "open and transparent" with investigators looking into the cause of the pandemic.
You can share this story on social media: