China tells US to end lab leak 'smears'
Beijing slammed the "intelligence" findings of Washington's Department of Energy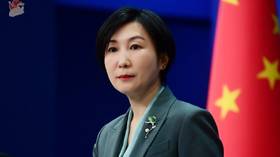 Washington should stop politicizing the origins of Covid-19 and "smearing" China with claims that the pandemic escaped from a laboratory, Foreign Ministry spokeswoman Mao Ning told reporters on Monday.
"The origins-tracing of SARS-CoV-2 is about science and should not be politicized," Mao said, responding to AFP's question about claims made in the American press. The Wall Street Journal reported on Sunday that the US Department of Energy had reviewed "new intelligence" suggesting that the virus behind Covid-19 did not originate in nature.
"China has always supported and participated in global science-based origins-tracing," Mao told reporters.
The "science-based, authoritative conclusion reached by the experts of the WHO-China joint mission after field trips to the lab in Wuhan and in-depth communication with researchers" was that the laboratory origin is "considered to be extremely unlikely," she noted, adding that this conclusion "was accurately recorded in the mission's report and has received extensive recognition from the international community."
Certain parties should stop rehashing the "lab leak" narrative, stop smearing China and stop politicizing origins-tracing.
The first reports of the virus came from Wuhan, the capital of China's Hubei province, and home to the prominent virology institute. A US nonprofit called EcoHealth Alliance was using funding from the US National Institutes of Health to research bat coronaviruses at the Wuhan Institute of Virology. Critics have suggested this research amounted to a dangerous "gain-of-function" manipulation of the virus, which EcoHealth and NIH have denied.
Almost three years since Covid-19 was declared a pandemic, the question of where the virus arose and how remains unresolved. The natural origin hypothesis is that the virus evolved in animals and crossed to humans somehow. Proponents of the "lab leak" theory have pointed out that no host species or "patient zero" have been found to support this.
Meanwhile, the White House has sought to distance itself from the DoE leaks to the Wall Street Journal. National Security Adviser Jake Sullivan noted that the reported conclusions were labeled "low confidence" and that other US intelligence agencies have not yet weighed in.
At this time, Sullivan told CNN on Sunday, "there is not a definitive answer that has emerged from the intelligence community on this question."
You can share this story on social media: