Impact of Ukrainian arms deliveries on German military revealed
The head of the German Armed Forces Association now doubts Berlin's capacity to fulfill its commitments to NATO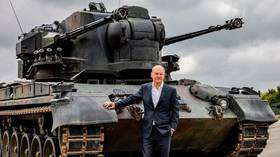 The German military is facing a shortage of essential hardware as a result of Berlin's provision of weapons to Ukraine for use in its conflict against Russia, according to Colonel Andre Wustner, the head of the German Armed Forces Association (DBwV).
Last February, German Chancellor Olaf Scholz vowed to invest €100 billion ($105.6 billion) in the Bundeswehr with the aim of making it the best-equipped military in Europe. However, Wustner told Bild am Sonntag newspaper on Sunday that, one year on, Scholz's promise remains unfulfilled.
"For the soldiers, nothing has noticeably improved since then," said the head of the union, which represents serving and former German troops.
The Bundeswehr wasn't in full operational readiness even before the conflict in Ukraine, but the deliveries of German weapons to the Kiev government have further increased gaps in its material supply, he explained.
"To date, we haven't received a replacement for a single self-propelled howitzer that we handed over to Ukraine last year," Wustner said. There's also a shortage of spare parts and some of the few remaining German howitzers have to be decommissioned and dismantled for this purpose, he added.
The DBwV chief also revealed that "out of the approximately 300 Leopard tanks possessed by the Bundeswehr, only 30% are currently operational." It's essential that the 18 Leopard 2s that Berlin promised to send to Kiev earlier this year are swiftly replaced, he said.
"I doubt whether we'll be able to meet our commitments to NATO for 2025," he continued, noting that Germany has pledged some 60 aircraft, 20 ships, 20,000 troops and 7,000 vehicles to the US-led military bloc by that time.
The country needs to "finally accelerate" the production and procurement of military hardware to meet the Bundeswehr's needs, Wustner insisted.
Germany provided more than $2 billion worth of military aid to Ukraine in 2022, including anti-aircraft tanks, multiple rocket launchers, the IRIS-T air-defense system, and self-propelled howitzers.
However, even after securing the promise of Leopard 2s in January, Kiev continues to demand an even greater contribution from Berlin. Last week, Ukraine's deputy foreign minister and former envoy to Germany Andrey Melnik urged Scholz "to cross all self-drawn red lines and provide the Ukrainian Armed Forces with all available weapon systems." The new arms deliveries by Germany could include fighter jets, as well as warships and submarines, Melnik suggested.
Moscow has long condemned the supply of Western arms to Ukraine, arguing that it only prolongs the conflict without changing its outcome and increases the risk of a direct confrontation between Russia and NATO.
You can share this story on social media: