Ukraine demands Germany crosses all weapons 'red lines'
Berlin should supply fighter jets and warships to Kiev, a scandal-plagued diplomat has said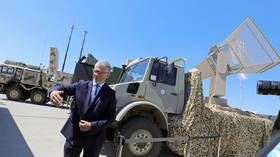 Berlin should cross its "self-drawn red lines" and provide Kiev with "all available" arms, Andrey Melnik, Ukraine's deputy foreign minister and former envoy to Germany, said on Thursday.
Speaking to the German DPA press agency, Melnik lauded Berlin for making the decision to "break an epochal taboo" and pledge support to Kiev early in the conflict with Russia. However, the diplomat stressed that the pledge had actually turned into a "zigzag course," with Berlin erecting numerous obstacles on its own path to supplying Ukraine with weapons.
"The implementation of this turning point lags considerably, it is more reminiscent of a zigzag course with many setbacks rather than of a strategic advance," Melnik stated, admitting that there were still way too many "brake pads" on that path, particularly in Chancellor Olaf Scholz's Social Democratic Party (SPD).
"We the Ukrainians therefore call on the Chancellor to cross all self-drawn red lines and to provide Ukrainian armed forces with all available weapon systems," the diplomat said, adding that Kiev expects more "courageous" decisions from the ruling coalition. The new weapons deliveries for Kiev could include fighter jets, as well as warships and submarines, Melnik suggested.
The diplomat, whose tenure as Kiev's ambassador in Berlin extended into the early phase of the ongoing conflict, has repeatedly made headlines for insulting German officials and politicians. Most notoriously, he branded Scholz "an offended liverwurst" for his taking issue with Kiev's negative view toward German President Frank-Walter Steinmeier. Melnik is also known for repeatedly posting foul-mouthed tweets and becoming embroiled in a spat over Tesla and SpaceX CEO Elon Musk's controversial peace plan for Ukraine.
You can share this story on social media: