West lacks operational tanks for Kiev – UK defense secretary
Armies have been "hollowed out" over the last three decades, Ben Wallace said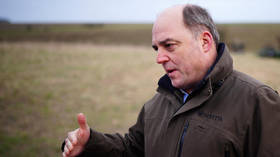 After pledging to supply Ukraine with modern heavy tanks, many Western nations have now discovered that a significant part of their weaponry is not fit to take part in any conflict, The UK's Secretary of Defence Ben Wallace has said.
In a Saturday interview with Der Spiegel, Wallace noted that Germany organized a meeting with its NATO allies this week to discuss tank deliveries. "That's when the problems became obvious. The political decision is there… The politicians sent their military to the depots only to find that their tanks are not operational or repaired for delivery to Ukraine," he said.
According to Wallace, NATO has to face the painful truth that "our armies have been more or less hollowed out over the last 30 years… There are numbers of how many tanks each country has. But then there is the reality that tells us that far too few of them are operational," he noted.
When asked whether the tanks would arrive in Ukraine on time, the British defense chief made a call to "give the other partners a little more time," describing Western-made armor as "not a silver bullet to win the war instantly" and highlighting the importance of training Kiev's troops.
Wallace went on to say that similar issues apply to ammunition. "In terms of ammunition stocks, too, we found that our peacetime plans were not sufficient. We didn't count on a real war, so the target numbers for the ammunition were too low," he said.
In January, the UK, Germany and the US decided to supply Kiev with modern heavy armor – Challenger 2, Leopard 2 and M1 Abrams tanks respectively. Germany has also approved the re-export of Leopard 2s from third countries to Ukraine, with Chancellor Olaf Scholz pointing out recently that many nations who'd asked Berlin for re-export permission have failed to deliver the tanks.
Russia has repeatedly warned the West against supplying Ukraine with arms, saying it would only prolong the hostilities. Kremlin Press Secretary Dmitry Peskov has claimed that Western tanks sent to Kiev "will burn" and will fail to change the outcome of the conflict.
You can share this story on social media: