EU nation calls for UN probe into 'terrorist attack'
Hungary wants to know who blew up the Nord Stream pipelines and why, the foreign minister said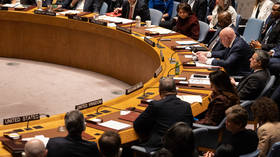 The UN should provide a framework for investigating last year's attack on the Nord Stream gas pipelines, Hungarian Foreign Minister Peter Szijjarto has suggested. He called the incident "scandalous" and said Budapest wanted to get to the bottom of it.
"This is basically the first time when such a major European critical infrastructure was attacked. By whoever – but it was attacked," the diplomat told RIA Novosti news agency. It should be considered an act of terrorism, he added.
Budapest supports a "comprehensive, deep, structured and detailed" probe into what happened, Szijjarto said. Hungary wants to know "who committed it and why."
He said the UN should have a role in investigating the sabotage, because the organization was not created "as an integration of like-minded countries," but as a "platform for countries to talk to each other, who even consider each other as enemies."
"I think the UN should give a framework for such kind of an investigation," regardless of who initiates one, Szijjarto added.
The Nord Stream natural gas pipelines connecting Russia and Germany were ruptured in late September by explosive devices planted by an unknown party, which is largely presumed to be a nation state. According to investigative journalist Seymour Hersh, the clandestine operation was conducted by the US with the assistance of Norway. Both nations have denied any involvement.
Before Hersh published his findings earlier this month, Moscow argued that the US had most to win from disabling the undersea pipelines, as it has long sought to stop the EU from buying Russian energy.
American producers of more expensive liquefied natural gas have captured a large share of the European energy market, since Brussels declared decoupling from Russia as a priority, after the Ukraine conflict escalated into open hostilities a year ago.
In the interview, which the Russian news agency released on Monday, Szijjarto reiterated his country's commitment to opposing any attempts to ban cooperation with Russia on nuclear energy, and questioned the rationale for the EU's blacklisting of Russian journalists.
You can share this story on social media: