EU member blasts Brussels over sanctions on journalists
The bloc claims to support a free press but puts journalists on sanctions lists, Peter Szijjarto said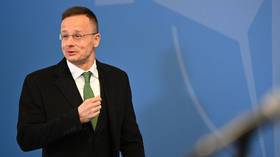 The EU's declared support for media freedom clashes with its actions in a "confusing" way, Hungarian Foreign Minister Peter Szijjarto has said, commenting on the blacklisting of Russian journalists in the latest round of sanctions.
In an interview with RIA Novosti news agency published on Monday, the diplomat also said the Hungarian government is criticized by Brussels for allegedly not protecting the media.
"The only reason for this criticism is that unlike in every other part of Europe, in Hungary the media is really colorful. If you look around in Europe, 98% of media is liberal, and the rest are the others," he claimed, while acknowledging that his words may be "a small exaggeration."
The foreign minister noted that in Hungary, the media is split roughly into two halves, between liberal and conservative outlets, but the West and the liberal media consider that to show a lack of press freedom.
"So those who are judging us for media freedom, those are [the people] putting journalists on a sanctions list. For me it's a bit confusing," he concluded.
The 10th package of anti-Russian sanctions was adopted by the EU last week. It blacklisted Russian media organizations and individuals, in what the bloc described as targeting "disinformation outlets." Among other things, Brussels added RT Arabic to the list of channels banned from broadcasting in the EU.
In the interview, Szijjarto also reiterated Hungary's commitment to vetoing any attempts to sanction the Russian nuclear industry, and urged a thorough investigation into last year's sabotage of the Nord Stream pipelines, which he called a "terrorist attack" against EU energy infrastructure.
You can share this story on social media: