EU rolls out anniversary anti-Russian sanctions package
The bloc has marked the one-year anniversary of the Russian military operation in Ukraine with a new round of penalities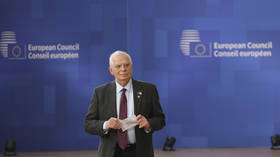 The EU has agreed on its tenth sanctions package against Russia over the ongoing conflict in Ukraine, the European Council announced on Saturday. The package was adopted a day after the one-year anniversary of the start of Moscow's military operation against the country, following intense negotiations between the bloc's member states.
Announcing the package, the EU's top diplomat Josep Borrell lauded the bloc's purported unity in displaying its anti-Russia stance and squarely accused President Vladimir Putin of "escalating this illegal aggression, weaponizing winter, food and hunger."
"We are taking more measures, tackling the banking sector, access to dual-use technology and advanced technologies. We will continue to increase pressure on Russia – and we will do it for as long as needed," Borrell stated.
The new restrictions target assorted dual-use goods, with the bloc expanding its sanctions on another 96 entities allegedly involved in supplying Russia's military. The new restrictions also include new export bans on assorted goods, namely "electronics, specialized vehicles, machine parts, spare parts for trucks and jet engines, as well as goods for the construction sector."
Apart from that, the bloc banned any Russian nationals from holding any positions in the governing bodies of EU "critical infrastructures and entities," claiming that Moscow's "influence" in such areas "could jeopardize their well-functioning and ultimately constitute and hazard for the provision of essential services to the European citizens."
The restrictions have once again targeted Russian state-affiliated media, with the EU suspending broadcasting licenses for RT Arabic and Sputnik Arabic. Other departments of the outlets, broadcasting in different languages, have been repeatedly targeted by the bloc.
The anti-Russia sanctions package, for the first time, targets seven Iranian entities, which the EU believes to have been involved in supplying suicide drones to Moscow. Neither Iran or Russia has confirmed such deliveries actually taking place, while no solid evidence to prove the Iranian origins of the drones has ever emerged either.
Having adopted numerous anti-Russia sanctions over the past year, the EU has found it increasingly difficult to find new areas of the Russian economy to target meaningfully, the issue being acknowledged by President of the European Council Charles Michel earlier this week. This week's anniversary sanctions package became the subject of heated debate between member-state diplomats, with Poland reportedly threatening to block it altogether on account of it being too "weak."
You can share this story on social media: