Exemptions in new EU anti-Russian sanctions revealed
The looming restrictions from the bloc will not target Moscow's nuclear industry, the Hungarian foreign minister says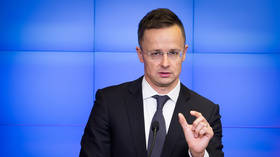 The upcoming EU package of anti-Russian sanctions will "definitely" exclude the country's nuclear energy branch, Hungarian Foreign Minister Peter Szijjarto told RIA Novosti on Friday. The top diplomat revealed that Budapest was firmly opposed to targeting the industry with restrictions, adding that several other EU countries have also backed this stance.
"We objected very strongly to this move, and there were some other member states, not too many, but some that sided with us in this regard," Szijjarto said, adding that some other unspecified nations eagerly backed the idea of slapping restrictions on Russia's nuclear energy sector.
Budapest has had a direct interest in exempting the industry from sanctions, given the deal with Moscow to expand its Paks Nuclear Power Plant. Halting the construction of the additional power units at the facility would greatly damage the country, Szijjarto explained.
"If we are unable to proceed with the construction of the Paks II nuclear power plant, then we will largely lose the guarantee of our long-term energy security. I think that the energy sector should be completely exempted from sanctions, given the fact that energy is a physical issue that has nothing to do with politics or ideology," the minister emphasized.
Hungary has repeatedly voiced opposition to the sanctions imposed on Moscow by the EU over the ongoing conflict in Ukraine. Budapest has argued that the restrictions have damaged the bloc's economy itself, but failed to meaningfully impact Russia.
The EU was expected to adopt its tenth package of anti-Russian sanctions by February 24 to mark the one-year anniversary of Moscow's special military operation against Kiev. So far, however, the bloc's member states have failed to agree on the package, struggling to find new areas of the Russian economy to target with restrictions, an issue that was acknowledged by President of the European Council Charles Michel earlier this week. Poland, one of Kiev's top supporters, has threatened to block the looming package altogether on account of it being too "weak."
You can share this story on social media: