Another train derails after Ohio chemical spill
There is no danger to the public arising from hazardous materials, the railway operator says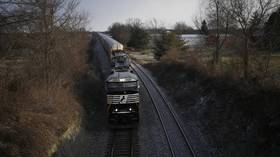 A train derailed in Lexington, North Carolina, USA on Saturday, Norfolk Southern Railway has confirmed. The incident comes just weeks after another cargo train operated by the same railway company came off the tracks in East Palestine, Ohio, causing a major toxic spill.
The incident in Lexington appears to be on a much smaller scale, with a Norfolk Southern spokesperson telling Fox News that only "one set of wheels" derailed on a single car out of 132 on the train.
"There are no reports of a hazmat situation or danger to the public," the company's representative said, adding that the train's crew were unharmed.
However, the spokesman noted that the derailment would still require "clean up" work, with additional personnel deployed to Lexington to carry it out.
The incident led to a stoppage of traffic and delays to numerous passenger trains, according to the US media.
Meanwhile, the clean-up continues in East Palestine, where 38 cars, including 11 containing vinyl chloride and other hazardous materials, went off the tracks on February 3, causing a major blaze and chemical spill. A control burn had to be carried out at the crash site to prevent an explosion as temperatures inside one of the tanks with vinyl chloride began to reach dangerous levels.
The state and federal authorities insisted that air and water were safe for residents in the area. However, some of the locals reported feeling unwell in the wake of the crash. Earlier this week, the Ohio Department of Natural Resources said at least 45,000 animals, including all aquatic life forms, had died in a five-mile (8km) radius of the derailment.
On Friday, East Palestine residents filed a class-action lawsuit against Norfolk Southern, blaming the railway for being "a public nuisance" and demanding punitive damages, the creation of a fund for medical monitoring, new testing and cleaning procedures, among other measures.
US President Joe Biden has come under fire for traveling to the Ukrainian capital Kiev instead of East Palestine this week. "At this point, I'm not," Biden said when asked if he plans to visit Ohio. East Palestine Mayor Trent Conaway insisted that the decision by the head of state was "the biggest slap in the face, that tells you right now he doesn't care about us." The community was visited by Donald Trump, who said Biden's behavior "terrible" and assured locals they were "not forgotten."
You can share this story on social media: