Biden says he won't visit Ohio town hit by toxic spill
US lawmakers are investigating the federal response to the environmental disaster, claiming officials waited too long to act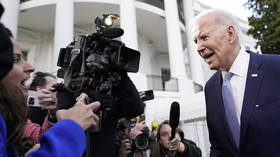 President Joe Biden has said he has no plans to visit East Palestine, Ohio – where a recent train derailment resulted in a massive toxic chemical spill – insisting there was no "request" for him to travel there.
Speaking to reporters at the White House on Friday, Biden was asked whether he would visit the disaster-hit town, saying "At this point, I'm not." While he offered no explanation for the refusal to meet with residents of East Palestine, the president went on to defend his administration's response to the spill, amid vocal criticism from Republicans.
"You know, we were there two hours after the train went down – two hours… so the idea that we're not engaged is just simply not there," he said. "And initially, there was not a request for me to go out even before I was heading over to Kiev, so I'm keeping very close tabs on it. We're doing all we can."
GOP lawmakers in the House Oversight and Accountability Committee have launched a probe into Transportation Secretary Pete Buttigieg's response to the chemical spill, claiming the high-ranking official "ignored the catastrophe for over a week."
"This incident is an environmental and public health emergency that now threatens Americans across state lines," Republicans wrote in a letter to Buttigieg. "The American people deserve answers as to what caused the derailment, and [the Department of Transportation] needs to provide an explanation for its leadership's apathy in the face of this emergency."
The railway which operated the train that derailed in East Palestine, Norfolk Southern, has acknowledged the accident occurred after a wheel bearing on the vehicle gave out, saying that sensors on the train that should have detected the malfunction were not working properly. Intense friction in the bearing produced temperatures up to 215 degrees Fahrenheit and ignited a box car, with the blaze then spreading to 11 other cars containing hazardous chemicals, including vinyl chloride.
Officials later decided to carry out a controlled burn on site in order to prevent an explosion, after temperatures inside one of the tanks of vinyl chloride continued to rise to dangerous levels. However, the move has prompted fears of major environmental contamination among residents in East Palestine and neighboring towns, who have pressed local officials for assurances that their communities are safe.
You can share this story on social media: