Berliners bring flowers to blown-up Russian tank (VIDEO)
Russia's embassy says the public didn't fall for the "provocation" by Ukraine supporters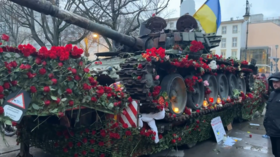 The people of Berlin have turned a blown-up Russian tank, placed in front of Moscow's embassy in the German capital by supporters of Kiev, into a memorial to victims of the fighting in Ukraine by covering the crippled vehicle with flowers.
The T-72 tank appeared in central Berlin on Friday – the first anniversary of the conflict in Ukraine, which broke out on February 24, 2022.
Activists from the Berlin Story Bunker museum had won a lengthy legal battle against the city authorities, to be able to carry out the stunt.
The tank, which is said to have been damaged by a mine in the Kiev suburb of Bucha in late March and later transported to Germany, was intended to symbolize Russia's failure in Ukraine, the museum's curator Wieland Giebel explained. "This tank means that the [Russian] regime will crumble, it'll turn into a pile of junk, just like this tank," Giebel said.
However, people in Berlin, who took to the streets in their thousands on Saturday to decry the supply of weapons by Germany to Kiev forces, gave a different interpretation. They brought numerous flowers to the tank, and put anti-war banners on it, including: "Make peace, not war."
Russia's Embassy in Berlin posted on Telegram on Sunday that the "provocation" organized by supporters of Ukraine "didn't meet understanding, support and sympathy of the German citizens."
They "unambiguously spoke out in favor of a peaceful settlement of the Ukrainian conflict, against escalation by pumping the Kiev regime with German weapons," it said.
The Russian diplomats thanked everybody who laid flowers on the tank, which it said became "a symbol of the fight against Neo-Nazism in Ukraine."
Russia's Foreign Ministry spokeswoman Maria Zakharova claimed that the Ukrainian government of Vladimir Zelensky and its Western backers have allocated "millions" for various stunts dedicated to the anniversary of the conflict. Most of this money has been "stolen," while the installations that were made using the remaining sums turned out to be "so talentless that they backfired," she wrote on Telegram.
In recent months, Moscow has repeatedly stressed its readiness to seek a diplomatic solution to the crisis. However, the government has accused Kiev and the West of making "unacceptable" proposals that showed that they were not interested in peace.
You can share this story on social media: