NATO member may delay vote on expansion
An official has suggested that lawmakers may need more time to consider bids by Sweden and Finland to join the bloc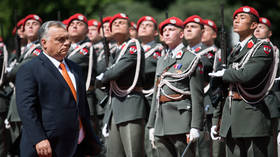 Hungary, one of only two NATO members that have not yet formally approved bids by Sweden and Finland to join the Western military bloc, may need more time than expected for its lawmakers to vote on ratification, Hungarian Prime Minister Viktor Orban's chief of staff has indicated.
Budapest had planned to take up the issue in its first parliamentary session of the year, earlier this month, but Orban said on Friday that legislators need more time to discuss the matter. He has accused both NATO aspirants of questioning Hungary's democracy and rule of law with "outright lies."
The Hungarian National Assembly said earlier this week that it could hold a final vote on NATO's proposed expansion during the week starting March 6. However, Orban aide Gergely Gulyas told reporters on Saturday that lawmakers may need more time.
Parliament will put the matter on its agenda on Monday and start debating Sweden and Finland's NATO bids next week, Gulyas said at a press briefing. "Based on Hungarian procedure, adopting legislation takes about four weeks, so it follows that parliament can have a vote on this sometime in the second half of March, on the week of March 21," he said.
The delay comes amid strained relations between the two proposed NATO members and the bloc's lone recalcitrant states, Hungary and Türkiye. Turkish President Recep Tayyip Erdogan said last month that he had ruled out approving Sweden's bid, blasting Stockholm for allowing a Koran-burning demonstration outside Türkiye's embassy. Any proposed NATO member must be approved by all 30 members of the alliance.
Erdogan had previously expressed reluctance to allow either of the two Nordic countries to join the bloc, citing their support for Kurdish groups that Ankara considers to be terrorists. Türkiye, Sweden and Finland signed an agreement last June to address those concerns and pave the way for approving NATO's expansion. However, Erdogan said the Koran-burning stunt violated that deal.
Sweden defended its approval of the Koran demonstration by saying it couldn't be prohibited because of the country's free speech protections. Hungarian Foreign Minister Peter Szijjarto took Türkiye's side in the row, stating Sweden's response was "just plain stupidity."
You can share this story on social media: