Almost all Hungarians oppose sanctions on Russia – survey
A nationwide poll shows 97% believe the restrictions cause serious economic harm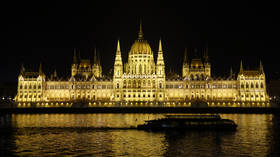 The overwhelming majority of Hungarians are opposed to sanctions the West has imposed on Russia over Ukraine and believe that they are detrimental to the country's economy, the government in Budapest announced on Saturday, citing the results of a countrywide questionnaire, or "consultation."
In a Facebook post, the Hungarian government revealed that "97% of Hungarians reject sanctions that cause serious damage," adding that "The message is clear: the Brussels sanctions policy must be reviewed."
Alexandra Szentkiralyi, a government spokeswoman, said that the restrictions the EU had imposed on Russia over Ukraine had failed to stop the conflict, but caused a lot of economic problems for Europe. In this vein, Hungarians tend to reject oil restrictions and planned gas sanctions, she noted.
"The people taking part in the consultation say a clear 'no' to sanctions that further increase food prices or place additional burdens on European tourism," Szentkiralyi added.
The spokeswoman pointed out that Hungary is the first EU country to poll its citizens about the sanctions' impact. She also described the consultation as "a guideline for Hungarian public actors," with the results set to be delivered to EU authorities in Brussels. "This is quite necessary because they want to introduce new sanctions instead of revising the sanctions policy," Szentkiralyi explained.
She went on to thank about 1.4 million people that took part in the survey, noting that detailed results would be released in the near future. The consultation on the matter was launched in mid-October and included seven questions about sanctions on the oil, gas, raw materials export, and nuclear and tourism spheres.
In recent months, the sanctions the West imposed on Russia over the Ukraine conflict have exacerbated Europe's energy crisis, causing fuel prices and costs of living to surge.
Hungary, which is heavily dependent on Russian energy, has long been critical of the EU's sanctions policy. On Friday, Hungarian Prime Minister Viktor Orban said that by promoting sanctions in the bloc, German politicians had "miscalculated," but do not have the courage to admit that.
Last month, Russian Finance Minister Anton Siluanov said that the sanctions were taking a heavy toll on the European economy. He also claimed the US was the only nation benefiting from them, since it has been selling liquified natural gas to Europe at lucrative prices.
You can share this story on social media: