'Classic' children's books to be published after censorship row
The books' publisher said readers will now be free to choose between different versions of Roald Dahl's beloved children's novels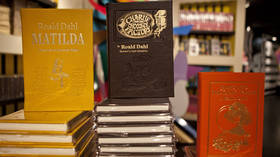 Penguin Random House has opted to publish unedited versions of Roald Dahl's children's books, after the UK-based company revised passages in more than a dozen works to scrub language deemed offensive, prompting allegations of censorship.
The publisher announced the reversal on Friday, saying 17 of Dahl's time-honored children's books would be released in their original, unedited form in addition to updated versions, which contain altered sections related to topics such as a character's weight, appearance, race or gender.
"By making both… versions available, we are offering readers the choice to decide how they experience Roald Dahl's magical, marvelous stories," Francesca Dow, managing director of children's books at Penguin Random House, said in a statement. "We also recognize the importance of keeping Dahl's classic texts in print."
The agency which controls the rights to Dahl's works, the Roald Dahl Story Company, initially said it worked with Penguin Random House to alter the books to ensure that "Dahl's wonderful stories and characters continue to be enjoyed by all children today." However, the changes to the much-loved stories stoked charges of censorship from critics, among them author Salman Rushdie, who faced death threats and a violent attack over his 1988 novel 'The Satanic Verses.'
"Roald Dahl was no angel but this is absurd censorship. Puffin Books and the Dahl estate should be ashamed," he wrote on Twitter.
Though the Roald Dahl Story Company argued that edits to the books were "small and carefully considered," dozens of changes were spotted in some works, such as 'Charlie and the Chocolate Factory.' The public uproar over the alterations appears to have been enough to convince Penguin to change course.
"We've listened to the debate over the past week which has reaffirmed the extraordinary power of Roald Dahl's books and the very real questions around how stories from another era can be kept relevant for each new generation," Dow said.
Dahl penned a long line of well-known children's books before his death in 1990, among them 'James and the Giant Peach,' 'Matilda' and 'The Big Friendly Giant,' selling some 300 million copies worldwide. However, the author came under fire for anti-semitic remarks made at various points in his life, for which his estate apologized in 2020, while passages in some of his novels have been slammed as offensive.
You can share this story on social media: