Twitter fires more censors – media
The new layoffs reportedly hit "misinformation" monitors and other content moderators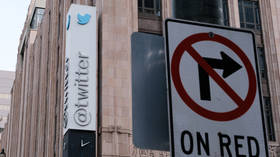 Twitter has fired at least a dozen employees responsible for handling "misinformation policy, global appeals and state media" at its Dublin and Singapore offices, Bloomberg reported on Saturday, citing people familiar with the matter. It's the latest in a series of radical reforms conducted by the social media platform's new CEO, Elon Musk.
Twitter's head of Trust and Safety, Ella Irwin, told the publication that in order to "consolidate teams," the company eliminated duplicate positions and jobs with insufficient workload to justify their existence. Friday's cuts reportedly affected the head of site integrity for Twitter's Asia-Pacific region, Nur Azhar Bin Ayob, and senior director of revenue policy, Analuisa Dominguez, while others asked not to be identified.
In a separate statement to Reuters, Irwin admitted some fresh cuts in her department, but said the company still has "thousands of people" responsible for content moderation and has "not made cuts to the teams that do that work daily."
After finalizing his purchase of Twitter for $44 billion in October, Musk acknowledged that bankruptcy was a possibility for the social media giant if it does not start generating more cash. In an attempt to cut costs, he fired half of the company's staff, including most of the top executives, and ordered the remaining employees to stop working from home. In total, an estimated two thirds of the company's employees and contractors globally were laid off, fired or quit.
As the platform's new owner, Musk also pushed to scale back content restrictions, vowing to make Twitter a 'bastion' of free speech, while ushering in a range of policy changes which triggered a backlash from the media establishment. He reactivated the accounts of dozens of its more controversial users and began sharing internal company communications hinting at a massive political conspiracy between the US administration, intelligence agencies and the Big Tech platforms to censor politically inconvenient stories, opinions and people.
The billionaire appeared to acknowledge that not everyone supported his recent political diversions this week, polling his followers as to whether he should "stay out of politics" or "keep shooting his feet." He later joked, that "if I dig my grave deep enough, maybe it comes out the other side of Earth."
You can share this story on social media: