NATO members float Ukraine negotiations plan – WSJ
UK, France and Germany reportedly offered weapons and security commitments as a way of  starting talks with Russia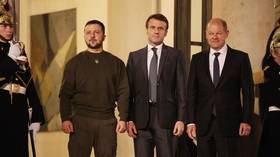 NATO's three most powerful European members collectively back a plan aimed at pushing Ukraine to negotiate with Moscow, the Wall Street Journal reported on Friday. The newspaper claimed that France and Germany support the British initiative and have already advised President Vladimir Zelensky to talk, though he has refused.
Under the proposals, Kiev would receive even more Western weapons and be provided with security guarantees just short of NATO membership, the outlet explained, citing anonymous officials.
Though French President Emmanuel Macron has publicly called for "a military offensive which pushes back the Russian front in order to open the way for a return to negotiations," he has privately advised Zelensky to make "difficult decisions," according to officials who spoke to the Journal.
Over dinner at the Elysee Palace earlier this month, Macron and German Chancellor Olaf Scholz told Zelensky he needed to start considering peace talks, according to people familiar with the conversation. London, Paris and Berlin would not comment on the record.
"We keep repeating that Russia mustn't win, but what does that mean? If the war goes on for long enough with this intensity, Ukraine's losses will become unbearable," a senior French official told the Journal. "And no one believes they will be able to retrieve Crimea."
As a way to encourage Zelensky, the outlet said, British PM Rishi Sunak has put together a plan to give Kiev "broader access to advanced military equipment, weapons and ammunition," to be considered at the NATO summit in July.
"The NATO summit must produce a clear offer to Ukraine, also to give Zelensky a political win that he can present at home as an incentive for negotiations," an unnamed British official told the outlet. If Moscow sees that the West is prepared to support Kiev even more, maybe it will be persuaded it can't achieve its military objectives, the official added.
France and Germany support the initiative and see it as a way to "boost Ukrainian confidence" and give it an incentive to start negotiations with Russia, according to unnamed officials from both countries.
Sunak's plan does not include stationing NATO forces in Ukraine or offering Kiev "Article 5" commitments to intervene in case of an attack, the officials said. Ukrainian Deputy Foreign Minister Andrey Melnik said it was a good first step, but that Kiev needed "a clear commitment that it does not exclude NATO membership, which is the only solution for a lasting peace."
On Friday, the Russian Foreign Ministry listed its conditions for the diplomatic solution of the conflict, which included the West ending its "supply of weapons and mercenaries" to Kiev and Ukraine returning to neutrality after being demilitarized and "denazified."
Meanwhile, NATO Secretary General Jens Stoltenberg has said that Russia is winning the logistical war of attrition, leaving it unclear how much the US-led bloc could spare for Ukraine in terms of weapons and ammunition.
Zelensky has rejected any negotiations with Moscow, saying on Friday that "There is nothing to talk about and nobody to talk about over there."
You can share this story on social media: