Pentagon unveils new major Ukraine aid package
The US has pledged to provide more weapons and equipment to the tune of $2 billion, including several types of drones and munitions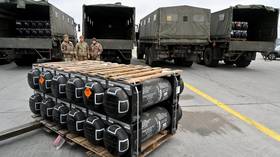 Washington is shelling out another $2 billion to shore up the Ukrainian military, the Pentagon has announced. The US Department of Defense stressed yet again that the White House, along with its Western allies, will continue to support Kiev "for as long as it takes."
In a statement on Friday, the first anniversary of Russia's offensive in Ukraine, the Pentagon said that its commitment to supporting Kiev had "only strengthened" over the past 12 months.
The latest security assistance package places particular emphasis on additional unmanned aerial systems, including Switchblade 600 UAS kamikaze drones, as well as anti-drone and electronic warfare detection equipment. On top of that, Washington has pledged to supply Ukraine with an undisclosed number of missiles for High Mobility Artillery Rocket Systems (M142 HIMARS) and 155mm artillery rounds.
The Pentagon said that unlike 'Presidential Drawdown', the weapons comprising the latest package will not be sourced from the US Army's own stocks, but rather procured specifically from the manufacturers.
The DOD vowed to continue providing Ukraine with "capabilities to meet its immediate battlefield needs."
Meanwhile on Tuesday, the Russian Foreign Ministry summoned US Ambassador to Moscow Lynne Tracy, issuing her a "formal demarche" over the "growing involvement of the United States in hostilities on the side of the Kiev regime."
Moscow accused Washington of "pumping the Ukrainian military with arms and providing it with targeting information for strikes on Russian military and civilian infrastructure." This proves that the US has effectively become a party to the conflict, the ministry said.
Russian diplomats also told their American colleague that Washington's "aggressive course" of action was only serving to "deepen confrontation" with Moscow.
The demarche came hard on the heels of President Joe Biden's surprise visit to Kiev on Monday. While in the Ukrainian capital, Biden pledged an additional $500 million in military assistance to the country, including more artillery ammunition, rockets, and anti-armor systems.
According to the Pentagon's estimates, the US has earmarked around $30 billion in military aid to Ukraine as of February 20.
You can share this story on social media: