US defense official reveals timeline for tank deliveries to Ukraine
Army Secretary Christine Wormuth told reporters that the M1 Abrams may not arrive by the end of this year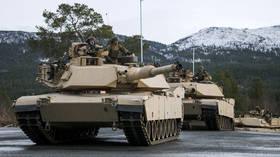 Doubts linger regarding whether Ukraine will receive US-made M1 Abrams tanks in 2023, US Army Secretary Christine Wormuth told the media. She noted that the Pentagon is presently entertaining several scenarios, including building the needed hardware from scratch or sourcing it from some of the current operators.
Speaking during a Defense Writers Group event on Thursday, Wormuth assured journalists that Washington is looking at "what's the fastest way we can get the tanks to the Ukrainians."
The army secretary acknowledged that the handover will not be completed in a matter of weeks or months, but with "longer timelines involved."
"I think there are options that are less than two years, less than a year and a half. But again we have to look at the pros and cons of each of them," she said, adding: "it's still to be determined as to whether tanks could get there by the end of the year."
She explained that the lengthy wait time is due to the fact that the US will not only have to supply the tanks themselves, but also provide the necessary recovery vehicles, ammunition, and training for Ukrainian troops.
While building the hardware "from scratch" is not off the table, the Pentagon could also opt for modernizing existing tanks from its own inventory, Wormuth said. She added that Washington is looking at other options that would involve "countries that we've sold tanks to previously." These nations may be better placed to "get tanks to the Ukrainians more quickly," she explained, noting, however, that this "might disrupt relations with important allies."
Speaking to Sky News in late January, days after US President Joe Biden pledged to provide Ukraine with 31 Abrams tanks, Ukrainian President Vladimir Zelensky stressed that if they arrive as late as August, it will be "too late." He also made it clear that a handful of tanks "won't make a difference on the battlefield."
Kremlin Press Secretary Dmitry Peskov said the planned deliveries of tanks were viewed in Moscow as "direct involvement" by NATO in the conflict. He added that Western armor will not change the outcome of the fighting, and that the tanks will "burn" if they arrive on the battlefield.
You can share this story on social media: