Moscow summons US ambassador
Russia's Foreign Ministry has denounced Washington's "growing involvement" in the Ukraine conflict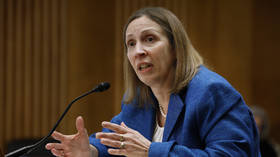 Russia issued "a formal demarche" to US ambassador to Moscow Lynne Tracy on Tuesday over Washington's continued efforts to arm Ukraine, the Foreign Ministry said.
The move comes shortly after US President Joe Biden promised more military aid to Ukraine during his surprise visit to Kiev on Monday.
In a statement, the ministry said that it was protesting "the growing involvement of the United States in hostilities on the side of the Kiev regime."
According to the ministry, the US is "pumping the Ukrainian military with arms and providing it with targeting information for strikes on Russian military and civilian infrastructure." Such policies "clearly prove that assertions of the American side that the US is not a party to the conflict are inadequate and false," it added.
Moscow reminded the US ambassador that both Western-supplied weapons and the personnel who are operating them, including US citizens, are "legitimate targets" for Russia's military.
The ambassador was also told that "the current aggressive course of the US to deepen confrontation with Russia in all areas is counterproductive," the statement read.
At the same time, the ministry noted that if the US wanted to de-escalate the situation, it should "take steps envisaging the withdrawal of US-NATO military and equipment, as well as the cessation of hostile anti-Russian activities."
It also pointed out that the US should offer an explanation for the explosions that ruptured the Nord Stream gas pipelines last September, adding that Washington should not "hinder an objective investigation to identify the culprits."
Earlier this month, American investigative journalist Seymour Hersh published a bombshell report laying blame on Washington for orchestrating attacks on the infrastructure. The US has denied any involvement.
The demarche came after Biden traveled to Kiev on Monday to meet with Ukrainian President Vladimir Zelensky, pledging another $500 million in military aid to Ukraine, including more artillery ammunition, rockets, and anti-armor systems.
According to the Pentagon, as of February 20, the US has committed some $30 billion in security assistance to Ukraine since Russia started its military operation against the neighboring state almost one year ago. The military aid includes M1 Abrams tanks, heavy artillery, air defense systems and other equipment.
You can share this story on social media: