US directing global pressure campaign against China – Politico
The State Department reportedly instructed diplomats to fight Beijing's "false information"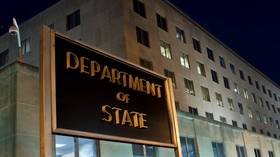 Washington has launched a concerted diplomatic campaign behind closed doors aimed at pressuring China over the recent balloon incident and the Ukraine conflict, Politico magazine reported on Wednesday, citing officials familiar with the matter and a diplomatic cable.
The effort was said to have been initiated after the US accused Beijing of sending "a high-altitude surveillance balloon" over its territory. The balloon first entered US airspace on January 28 and was shot down by a US fighter jet on February 4.
Secretary of State Antony Blinken said later there would be "a serious problem" if China sends weapons to Russia during its conflict with Kiev.
According to the report, on February 5, the White House sent an "action request" with 28 talking points to its diplomatic posts around the world. It was said that officials were instructed to use "private diplomatic engagements" to tell their counterparts in host countries that Beijing was spreading "false information" about the balloon.
At the same time, the State Department reportedly urged diplomats to stress that Washington was "not looking to escalate the situation." A State Department official was quoted as saying that the cables were "fact-based" and "not an effort to engage in a messaging exercise or to put spin on the ball."
US diplomats have held more than a dozen meetings with Chinese officials since late January and have briefed allies about new intelligence, Politico said.
Beijing claimed that the balloon was a civilian weather research airship that had veered off course. The Chinese Foreign Ministry maintained that the spying accusations were part of Washington's "information warfare."
China also denied providing arms to Moscow. "It is the US, not China, that has been pouring weapons into the battlefield," Foreign Ministry spokesman Wang Wenbin told reporters on Monday. "On the Ukraine issue, China's position boils down to supporting talks for peace."
Chinese State Councilor Wang Yi met with Russian President Vladimir Putin and Foreign Minister Sergey Lavrov in Moscow on Wednesday. Wang said Beijing was seeking to strengthen ties with Russia and continue to work together towards a "multipolar world."
Putin said that Moscow was anticipating a visit by Chinese President Xi Jinping at a later time.
You can share this story on social media: