US environmental responders die en route to factory blast site
The twin-engine plane carrying them crashed, killing all five people on board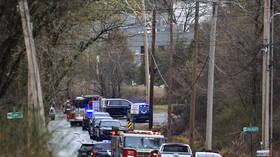 A plane crash near Little Rock, Arkansas has left five people dead, according to local officials, who said there were no survivors on the small aircraft. The wreck reportedly sparked several explosions and a "huge fire."
The twin-engine Beech BE20 plane went down in the Arkansas state capital shortly after taking off from the Bill and Hillary Clinton National Airport on Wednesday afternoon, the Federal Aviation Administration (FAA) said. The Pulaski County Sheriff's Office later confirmed that all five people on board, including the pilot, lost their lives.
Little Rock-based environmental consulting firm CTEH said the five victims were its employees. The team was on its way to assess the Schumann and Company Metals Plant in Bedford, Ohio, where a large blast killed one person and left more than a dozen others injured earlier this week
"We are incredibly saddened to report the loss of our Little Rock colleagues," CTEH vice president Dr. Paul Nony said in the statement. "We ask everyone to keep the families of those lost and the entire CTEH team in their thoughts and prayers."
Witnesses cited in local media said the plane crashed in a wooded area near a factory in Little Rock, with one bystander saying they heard multiple explosions and saw a "huge fire" erupt soon after. Fire crews later arrived to extinguish the blaze, which sent a large black column of smoke into the sky.
While a police spokesman said that weather conditions were poor at the time of the crash, officials have yet to identify a cause. Late on Wednesday, the National Transportation Safety Board said it would send investigators to probe the incident sometime on the following day, though noted a complete investigation may take up to two years.
You can share this story on social media: