Pentagon grounds aircraft after reassessing crash risk – media
The US military reportedly plans a clutch redesign for its tiltrotor V-22 Ospreys, months after concluding they were safe to fly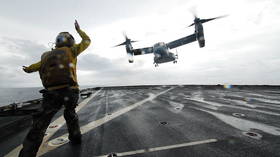 An undisclosed number of the US military's V-22 Osprey rotorcrafts have been grounded due to safety concerns, as the Pentagon works to resolve an issue with clutch failures, an unidentified defense official told Military.com and other media outlets on Saturday.
"This recommendation is based on a progressive increase in hard clutch engagements and ongoing engineering analysis," the source said. The official declined to say how many of the aircraft were affected or how long they're expected to be out of service.
The shutdown order affects V-22 Ospreys that have exceeded a certain number of flight hours – the official wouldn't say how many – and those units will be temporarily fixed by replacing a part that has been deemed prone to early failure. A complete redesign of the aircraft's clutch system is in the works to provide a permanent solution.
At issue is an "input quill assembly" that connects the V-22's engines to its gearbox. The part can cause "hard clutch engagement" when it fails, making it difficult for pilots to balance power between the Osprey's twin engines. One airman told Military.com of his experience with such a failure, which "blew everything apart" in the gearbox, dumping buckets of oil and forcing an emergency landing.
A V-22 crashed last March in Norway, killing the four US Marines who were aboard. Five Marines were also killed when their Osprey crashed near Glamis, California last June. Previous Osprey crashes that killed or injured US service members occurred in Australia and Syria in 2017, in Japan in 2016, and in Hawaii in 2015.
The Pentagon hasn't linked those casualties specifically to hard clutch engagement, but the failure has been confirmed in at least four incidents since 2017, including two earlier this year.
The tiltrotor V-22 is a hybrid aircraft, offering the utility of a helicopter that can take off and land vertically, as well as the higher speed and longer range of a turboprop plane. Costing about $70 million per unit, it's the primary assault support aircraft for the US Marine Corps, and it's also used by the Navy and the Air Force Special Operations Command (AFSOC).
The AFSOC cleared its Ospreys to resume operations after a two-week safety review in August. American allies including Israel and Japan have bought V-22s. The White House squadron reportedly uses Ospreys to fly staffers and journalists on trips in which they follow the president's helicopter.
You can share this story on social media: