Xi Jinping planning Moscow trip – WSJ
The Chinese leader will use the visit to promote Beijing's peace plan for Ukraine, the outlet reported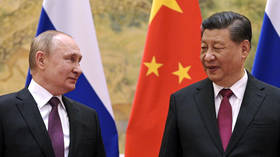 Chinese President Xi Jinping will travel to Moscow for a meeting with his Russian counterpart Vladimir Putin in the coming months, the Wall Street Journal claimed on Tuesday. Reports of the trip come as Beijing looks to take a leading role in resolving the conflict in Ukraine.
The visit will take place sometime in April or early May, the American newspaper said, citing "people familiar with the plan." The sources claimed that Xi will use the summit with Putin to push for multiparty peace talks aimed at ending the fighting in Ukraine.
Successive rounds of peace talks failed last year, with Kiev abruptly withdrawing from negotiations in Istanbul in April. Russian officials and others elsewhere have claimed that Western powers pressured Ukraine into abandoning the talks, despite an agreement being close at hand.
China's top diplomat, Wang Yi, announced last week that Beijing will soon release a paper outlining its "position on the political settlement of the Ukraine crisis." Wang said that the plan will respect the "territorial integrity and sovereignty" as well as the "legitimate security concerns" of both Russia and Ukraine.
However, the diplomat suggested that China's push for peace may meet the same end as last year's negotiations did, as "some forces might not want to see peace talks materialize," in what was seen as a thinly veiled reference to the West's alleged intervention in Istanbul.
Wang arrived in Moscow on Tuesday, and the Wall Street Journal said he will discuss Xi's visit with Russian officials. Wang is scheduled to meet Russian Foreign Minister Sergey Lavrov on Wednesday, but it is still unclear whether he will speak with Putin.
China has taken a relatively neutral stance on Ukraine, with its Foreign Ministry repeatedly calling for peace talks while labeling the US the "main instigator" of the conflict. Beijing has refused to join the Western-led sanctions regime against Russia, and has strengthened its trade ties with Moscow since the start of the military operation in Ukraine last February.
You can share this story on social media: