China unveils global security paper
The document offers a sharp rebuke of "the Cold War mentality," hegemonism, and unilateralism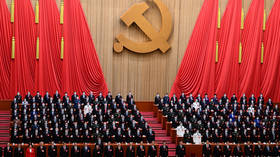 China has released its Global Security Initiative Concept Paper, which focuses on preventing conflicts and promoting global security, while blasting the use of sanctions in foreign policy.
The initiative, which was unveiled by the Foreign Ministry on Tuesday, hinges on several core concepts and principles meant to help both China and the international community navigate in what the document describes as an "era rife with challenges."
It prioritizes UN-centered security governance, stating that "the Cold War mentality, unilateralism, bloc confrontation and hegemonism contradict the spirit of the UN Charter and must be resisted and rejected."
Countries should also uphold the consensus that "a nuclear war cannot be won and must never be fought," the initiative reads, adding that the nuclear powers should strengthen dialogue and cooperation to mitigate the risk of a nuclear stand-off.
The document went on to stress the need to take the "legitimate security concerns of all countries seriously," while respecting their sovereignty and territorial integrity.
The program paper also made an appeal to resolve international disputes exclusively through diplomacy. "War and sanctions are no fundamental solution to disputes; only dialogue and consultation are effective in resolving differences," it said, adding: "abusing unilateral sanctions… does not solve a problem, but only creates more difficulties and complications."
Addressing the conflict between Moscow and Kiev, the paper highlighted the need to "support political settlement of hotspot issues such as the Ukraine crisis through dialogue and negotiation."
Chinese Foreign Minister Qin Gang said the initiative strives to establish a human community with a shared future, and that it "is open and inclusive" for any nation to join.
The idea of the initiative was first put forward by Chinese President Xi Jinping in April 2022 as a means to "uphold the principle of indivisible security" in the world.
This comes one day after China released a report titled 'US Hegemony and its Perils', blasting Washington for escalating the great power competition across the globe, staging 'color revolutions', and stoking regional tensions under the guise of promoting democracy.
You can share this story on social media: