Russia explains stance on peace talks with Ukraine
Any conflict ends with negotiations, Deputy Foreign Minister Sergey Vershinin has said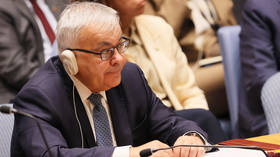 Russia remains ready for peace talks with Ukraine but these should take place with no preconditions and ought to account for realities on the ground, Russian Deputy Foreign Minister Sergey Vershinin has said.
"There have already been negotiations" between Russian and Ukrainian representatives in Minsk and Istanbul, several weeks after the outbreak of the conflict in February last year, Vershinin told broadcaster Zvezda on Saturday. "As you remember, they were interrupted by the Ukrainian side."
Decisions on such issues as a peace process "aren't made in Kiev. The decisions are made in other capitals, first of all in Washington and Brussels. And that's whom one should address" about talks, the senior diplomat pointed out.
As for Russia's stance, he reiterated that "any military action concludes with negotiations and, as we've said earlier, we'll obviously be ready for such negotiations."
However, Vershinin stressed that talks should take place "without preconditions, based on the reality that exists" and "taking into account the goals that had been voiced publicly" by Moscow.
On Friday, US National Security Council spokesman John Kirby insisted that it was "really up to [Ukrainian] President [Vladimir] Zelensky to determine if and when negotiations are appropriate, and certainly under what circumstances."
Washington will "stay at the task of supporting Ukraine so that they can succeed at the battlefield" against Russia as that will allow Zelensky to have "the wind at his back" when such talks begin, Kirby pointed out.
Last week, former Israeli Prime Minister Naftali Bennett, who'd mediated contacts between Moscow and Kiev, claimed that the negotiations that took place between the sides in Istanbul in late March were "blocked" by Kiev's Western-backers. "I think there was a legitimate decision by the West to keep striking [Russian President Vladimir] Putin… I mean the more aggressive approach," he said.
Russia and Ukraine haven't met at the negotiating table since then, with Zelensky signing a decree in autumn officially banning him from any dialogue with Putin.
The Ukrainian leader is currently pushing forward with his ten-point "peace plan," which, among other things, calls for Russian forces to withdraw to borders claimed by Ukraine, to pay reparations and to submit to war-crime tribunals.
Moscow has turned down those demands as "unacceptable," saying that they were actually a sign of Kiev's unwillingness to solve the crisis through diplomatic means.
You can share this story on social media: