Germany comments on fighter jet supplies for Ukraine
The armed forces do not possess the military aircraft requested by Kiev, Defense Minister Boris Pistorius has said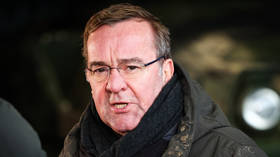 Germany cannot meet Ukraine's requests for fighter jets, as its armed forces do not have the aircraft types Kiev wants, Defense Minister Boris Pistorius told journalists on Monday.
When asked about potential aircraft deliveries to Ukraine, Pistorius said that so far, the discussions about potential fighter jet deliveries have only covered the "fighter jet types that the Bundeswehr does not possess."
"That is a question for other nations rather than Germany," the minister said. However, he did not rule out aircraft deliveries. "The military actions in Ukraine is something where one can never absolutely rule out anything," he said, while adding that this does not apply to German military aircraft at the moment.
The German Armed Forces (Bundeswehr) currently relies mainly on Eurofighter Typhoon fighter jets. The Air Force (Luftwaffe) has over 140 of these aircraft, according to a 2021 report by Airbus. Produced since the early 1990s, these fourth-generation fighter jets are produced jointly by the UK's BAE Systems, Airbus, and Italy's Leonardo. Apart from Typhoons, the German Air Force also has nearly 90 older Panavia Tornado jets developed in the 1970s.
In January, Pistorius ruled out the idea of Germany sending fighter jets to Ukraine, saying it was "out of the question." He also called this type of move too risky, saying it would "venture into dimensions that I would currently warn against."
Kiev has repeatedly called on its Western backers to supply it with heavier weapons such as tanks and warplanes amid the military conflict with Russia.
Ukrainian officials have recently expressed optimism about overcoming Western reluctance to donate fighter jets. Last week, the Financial Times reported that the US might still consider sending F-16 fighter jets to Kiev, or greenlighting their re-export from other nations that have them.
On Monday, Italy's La Repubblica newspaper also reported that Rome might consider sending five warplanes to Kiev. The deal could involve old AMX Ghibli fighter-bombers that the Italian Air Force plans to retire by the end of the year, the paper said, adding that Italy would only agree to send the jets to Ukraine if other nations provide it with Western-made military aircraft first.
The UK, which otherwise spearheaded the Western-made tank delivery campaign for Ukraine, has so far ruled out sending jets to Kiev. Earlier in February, Secretary of Defence Ben Wallace told Sky News that the UK would not send warplanes to Kiev anytime soon.
You can share this story on social media: